Class of 2020
BA (Hons) Fashion Design and Technology
Using technology, creativity and resilience to succeed
Guest Editor: Cassandra Fryxell, Class of 2020
Main Image Credit: Ebennezer Gamanya, Class of 2020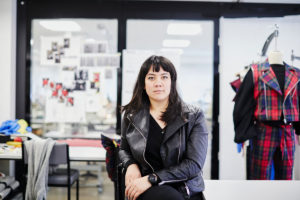 As one of the graduates for the class of 2020, I can collectively say that we have each faced a final year that wasn't what we anticipated! Our personal expectations had to shift to accommodate the uncertainty of how Covid-19 would play out. Needless to say, we had to quickly adapt to overcome the challenges.
For this reason, the Fashion Design and Technology Class of 2020 is the greatest graduating cohort of all years! Having arrived in final year together, some from second year and others back from placement year – we were suddenly separated. Being from America, myself and the other international students had flights and plans cancelled. Instead of our studio environment, we had to support each other virtually, coming together online to share the struggles, highs and lows.
When we began, we had goals of creating collections that would kick-start our careers. We now feel our reputation will be a force to be reckoned with. We are the hard-working, detail oriented, passionate and multi-talented designers, developers, researchers, pattern-makers, technicians, creative directors, activists… who understand how technology has and will transform the industry sustainably and positively.
Fashion Design and Technology has enabled us to become individual creatives and independent thinkers. We have learned industry standards, and had access to many competitions and live briefs that have made us believe in ourselves.
Fashion Design and Technology is one of only 14 UK Fashion courses to be supported by the British Fashion Council and we were proud to be featured as part of London Fashion Week. In this video 5 Fashion Design and Technology students talk about their unique technical processes.
Many of us have been shortlisted for upcoming competitions. Sarah Robinson and Courtney Humphries are finalists in the PCA Vision Professional Clothing Award 2020. Sophie Parnaby was highly commended in the Bradford Textiles Competition 2020. Eleanor Henderson, Hansa Khan, Sophie Parnaby and Holly Walker all met with members of the design and talent teams as Old Navy Design Graduate Programme 2020 semi-finalists.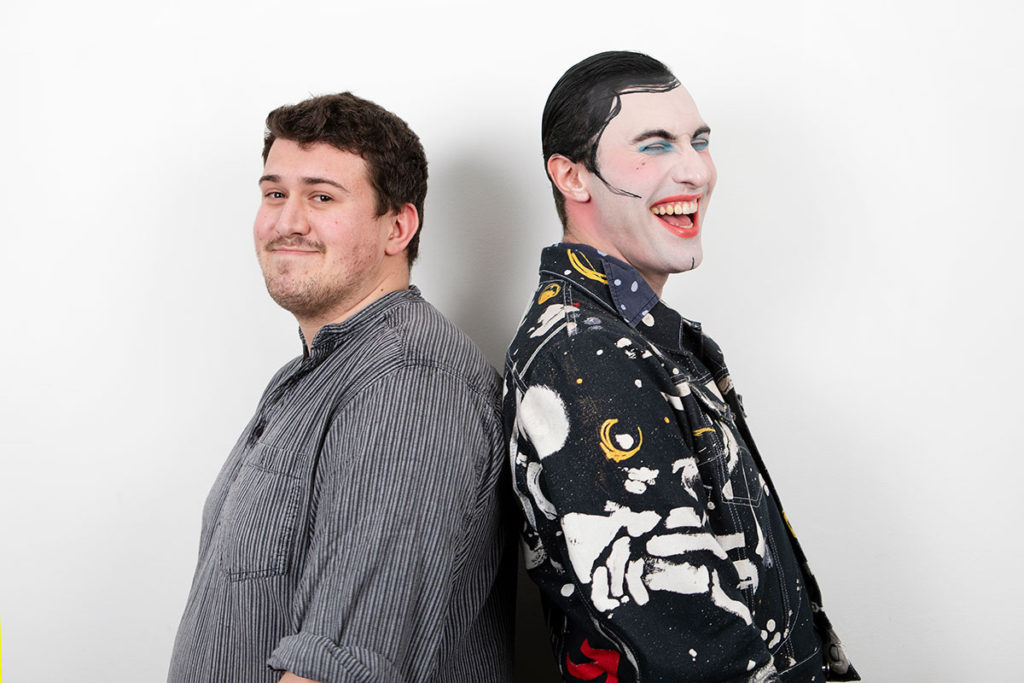 For the BFC x British Library x Charles Jeffery Research Competition, 2 of the 8 semi-finalists were from our progamme. At a London ceremony, Harry Parker was announced overall winner with Leena Sobeih the British Library Staff Choice Award winner.
Students have been shortlisted from hundreds for Graduate Fashion Week 2020 Awards. Sophie Parnaby: Fashion Innovation & Considered Fashion, Chloe Bean and Shannon Machin: Childrenswear and Mia Thompson: Sportswear & Leisurewear & Fashion Technical Drawing and Holly Walker: LOVE Magazine shoot by Tim Walker.
As part of the 'Forces for Sustainable Change' project, 28 outfits were selected for the 2019 Wuhan Textile University Sustainability Conference. Students Harry Parker, Maryam Alsaei and Daniella Bayes won the chance to travel to China as representatives. Ebennezer Gamanya was announced First EEKA Prize World Innovation Design Competition winner, Anisa Tariq the Best Environmental Concept Award winner, and Tom Bielby and Beth Walkden-Patel were Excellence Award winners. You can read about Harry's experience here.
Some of the Class of 2020 won competitions during their second year, 2018. Mia Thompson: RAB Outdoor Design winner, Tom Bielby: PUMA Design Sprint finalist, and Maryam Alsaei and Sophie Parnaby were both winners of the Old Navy Competition, with an all expenses paid placement in San Francisco. 10 students also showcased outfits as part of live brief with Manchester Art Gallery.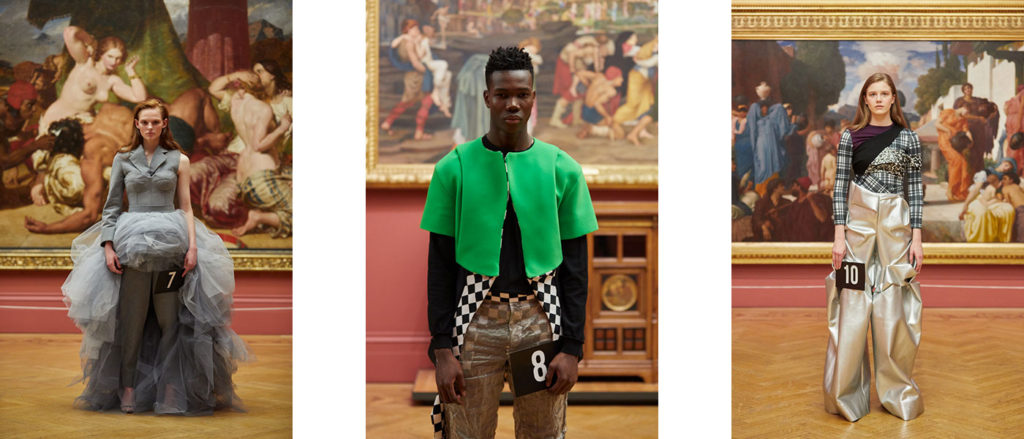 It was a major low for of us to start work on our final collections and then not be able to showcase them at live events as we were expecting. But as a strong and resilient group, we pulled ourselves out of the 'what ifs' and completed our collections digitally.
Selected students feature in the British Fashion Council 2020 Graduate Preview platform, an interface with industry and prospective employers. These and other students are also featured on the Artshread creative digital platform and Showstudio.
We hope that the digital exposure will offer us the same opportunities as previous graduates. We have more to show, and much more to offer as we have proven we can overcome anything the fashion industry can throw at us, because we already did it in quarantine!
"We are incredibly proud of the resilience, ingenuity and professionalism demonstrated by this year's graduating cohort. They battled unexpected, unprecedented circumstances, applying creative thinking to produce some outstanding work. They leave us industry ready; many undertook placements at companies including Old Navy, JW Anderson, Puma, Lee and ASOS or worked with industry throughout their programme on live projects. Their digital and technical literacy will serve them well in the shifting challenges faced by the fashion industry as we move into a new, hopefully more sustainable, landscape."
Thida Hawkins, Programme Leader, BA (Hons) Fashion Design and Technology.
"Congratulations to both the students and staff of the Fashion Design and Technology course at Manchester Metropolitan University. In such difficult circumstances, you have great talent and resilience in producing an array of incredibly impressive work that celebrates a wide diversity of aesthetics, processes, and outcomes. You should be rightly proud of all that you have accomplished."
Professor Andrew Groves, Westminster University, External Examiner.