Fashion students win awards at British Library x Charles Jeffrey Research competition
09 March 2020
Two Fashion Design & Technology students impressed panel of judges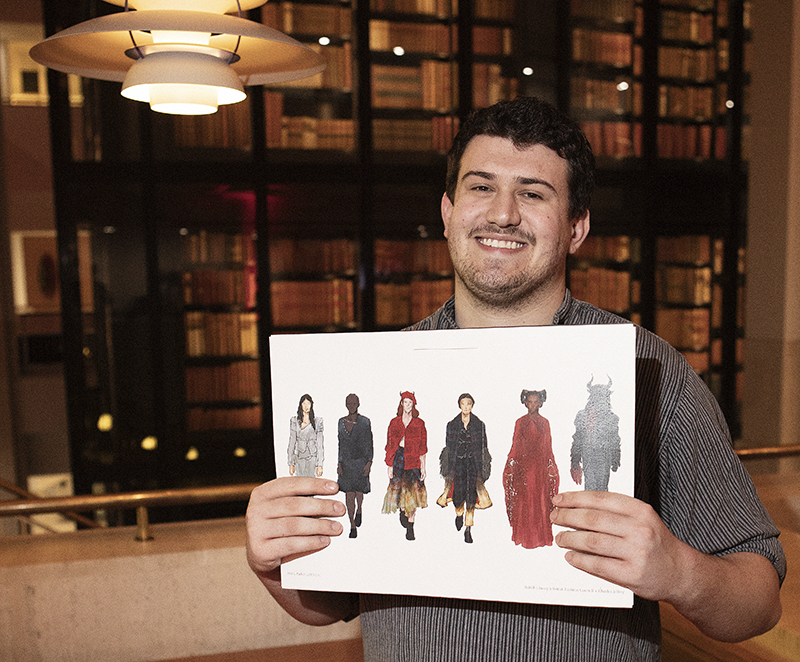 Two final-year BA (Hons) Fashion Design & Technology students at Manchester Metropolitan University have won awards in the prestigious British Library x Charles Jeffrey Research Competition.
Harry Parker was announced as the winner of the British Library x Charles Jeffrey LOVERBOY Research Competition, receiving a £3,000 cash prize, and Leena Sobeih was awarded with the British Library Staff Award during an awards ceremony at the British Library, in London, on January 31.
For the third year running, the British Library has worked with the British Fashion Council and collaborated this year with Glaswegian designer Charles Jeffrey. This national competition was open to BFC Colleges Council MA and BA final-year students.
Using Jeffrey's recent collection SS20 'Minds Instructions' manifesto as inspiration, Harry and Leena designed a capsule collection consisting of 8-10 garments. The students were asked to create a research-focused fashion portfolio, influenced by the British Library's resources. Their projects told a 'fashion story' that reiterated the importance of research in fashion education.
It's been an incredible opportunity to take part in the competition and I feel very lucky to be given the chance to showcase my designs to both the British Fashion Council and the British Library.
Both Harry and Leena fought off strong competition to reach the final alongside six other shortlisted students. They impressed the panel of judges made up of influential and well-respected industry individuals including renowned fashion critic and advocate for emerging British talent Sarah Mower MBE, Judith Rosser-Davies, Head of Government Relations and Education at British Fashion Council and designer Charles Jeffrey.
The students had the opportunity to present their work to British Library curators during the awards ceremony, culminating with Leena Sobeih receiving the British Library Staff Award for her exceptional use of library research.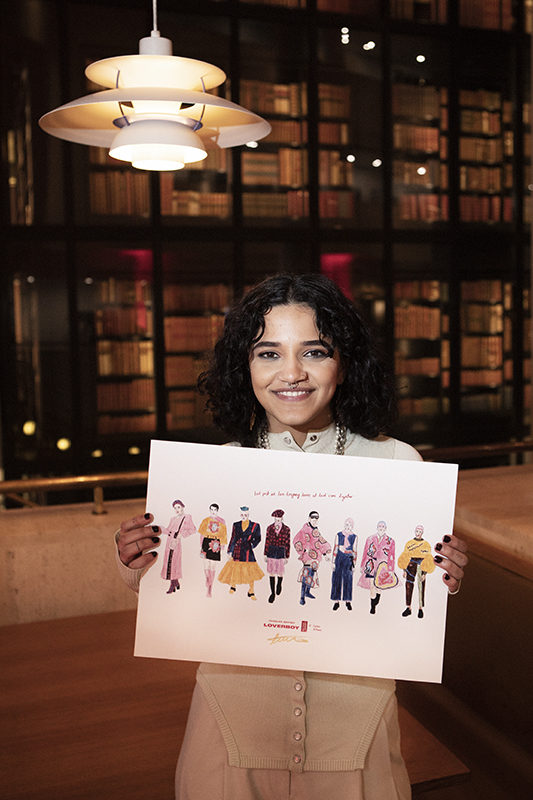 John Earnshaw, Senior Lecturer in Fashion, Design and Technology said: "We are delighted for both Harry and Leena for their success in this prestigious competition. It's fantastic for our students to have the opportunity to showcase their work to the British Fashion Council, British Library and one of London Fashion Week's most exciting designers Charles Jeffrey!"
Winner Harry Parker said: "I was extremely honoured to win the British Library x Charles Jeffrey Research Competition. It's been an incredible opportunity to take part in the competition and I feel very lucky to be given the chance to showcase my designs to both the British Fashion Council and the British Library. Working on this project enabled me to step out of some of my comfort zones - designing womenswear for the first time; and the unique challenge of balancing Charles Jeffrey's dress-up theatricality with creating desirable product. Taking part in the competition has given me invaluable experience which will further support my future work."
Leena Sobeih commented on receiving the British Library Staff Award: "Taking part in the competition has been a fantastic experience, and I'm extremely honoured to be presented with the British Library Staff Award. Having the opportunity to research the British Library archives has been inspirational and I'm grateful for the experience this has given to me."