Student work showcased at first digital London Fashion Week
17 June 2020
'Class of 2020' create films showing exciting and innovative designs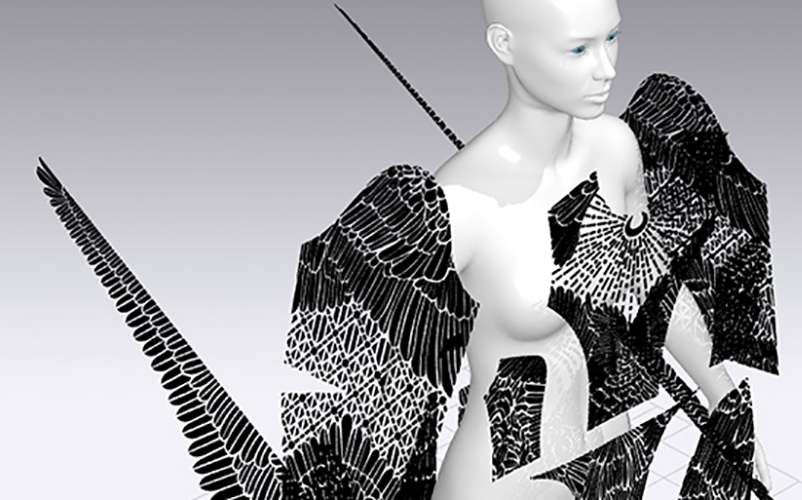 Manchester Fashion Institute students have showcased their work at the first ever digital London Fashion Week.
Taking place from 12 until 14 June, London Fashion Week (LFW) took on a new form as a digital-only platform that merged womenswear and menswear. The new digital platform featured designer profiles, content created by retailers, media, designers and partners, and a 'schedule' of live moments.
The British Fashion Council (BFC) invited Manchester Metropolitan University, along with 12 other universities, to create content for the new LFW digital platform as part of their commitment to supporting education and fashion students. This content forms part of 'Class of 2020' which gives students the opportunity to tell their story on the LFW platform.
Students from BA (Hons) Fashion and BA (Hons) Fashion Design & Technology created two films telling their stories and showcasing their work. Both films are featured on the Explore section of the LFW website and are still available to view.
Jo Jenkinson, Deputy Head (Fashion) at Manchester Metropolitan University, said: "London led the way as the first of the main four fashion capitals to stage a digital fashion week and we are thrilled to see our graduating students represented on the LFW digital platform. Like the established designers featured at LFW, our final year design students had to adjust to a completely new way of working at very short notice. We've been impressed with their resilience, creativity and professionalism in these challenging times."
Practice Makes Perfect features students from BA (Hons) Fashion sharing stories about the evolution of their creative fashion practice whilst working from a home studio environment. Process: Fashion Technology Sustainability showcases students from BA (Hons) Fashion, Design & Technology sharing their creative fashion design processes, their use of technology and consideration of sustainability.
Jenkinson added: "The two films featured during LFW expose how creativity thrives in adversity. The BA (Hons) Fashion students tell their stories about how they have adapted their studio practice during lockdown, whilst our BA (Hons) Fashion Design & Technology students show us how new digital and manual technologies enabled them to develop their practice in innovative and sustainable ways. From what we have seen at LFW and in the class of 2020, the future of how fashion is designed, manufactured and promoted is at an exciting turning point."
The LFW schedule of events included a new film presenting an overview of the Music Meets Fashion Competition which was launched by BFC, MTV, ICEBERG and River Island earlier this year. BA (Hons) Fashion Design & Technology student Jessica Torrence and BA (Hons) Fashion student Bew Chan-Aphat have both submitted designs to the global competition which is judged by some of fashion's biggest names and will offer a life-changing prize.
Manchester Metropolitan alumni also presented their collections over the weekend. BA (Hons) Fashion and PhD alumnus Nabil Nayal presented his tenth collection Chapter X: The Archives in Blue, featuring new unseen footage taking a retrospective look at his archives and hero pieces.
BA (Hons) Fashion alumnus Matthew Miller presented his new concept Post Apocalyptic Merchandise, a collage of archive footage presented together to give a snap shot of where we currently are as a species and reflecting the tumultuous uncertain times of today.
Selected students from across BA (Hons) Fashion and BA (Hons) Fashion, Design & Technology have also been invited to upload their portfolios onto The BFC Colleges Council Graduate Preview, as part of Manchester Metropolitan University's membership with The BFC Colleges Council. Showcasing emerging talent, The BFC Colleges Council Graduate Preview offers an opportunity for industry to connect with designers and course leaders.