Opening
Space
BA (Hons) Fashion Business and Management
We are the future
Guest Editor: Rojan Noroozi
The global pandemic may have disrupted the fashion industry, but it has only enriched the Fashion Business and Management (FB&M) students. Not only have we been able to live and breathe the seismic shift in consumer behaviours and trends, we have faced the challenge of blended learning head on and continued to engage in active discussion and debate in workshops and lectures.
From the outset, the FB&M course enhanced our critical thinking, software and presentation skills, creative ideation, big data, finance, and market analysis. From applying real-world context into our studies, to positively challenging us to develop business concepts that are viable and relevant in a post Covid world. As students, we are now ready to rise to any challenge, prepared to be at the forefront of current thinking and excel as a graduate and a future leader.
Looking Back
As our studies come to an end, we have time to reflect on our own personal journeys. When I left my country six years ago under challenging circumstances, I did not know where my path would lead to but my determination and ambition have enabled me to become a graduate with my own embroidery business, Adalogo.
We have had the opportunity to go on study trips both here in the UK and abroad, including Copenhagen in Level 4, where we visited Saga Furs and Moon Creative Agency. In Level 5, students went to New York which included trips to the United Nations and Eileen Fisher, along with some sightseeing of course!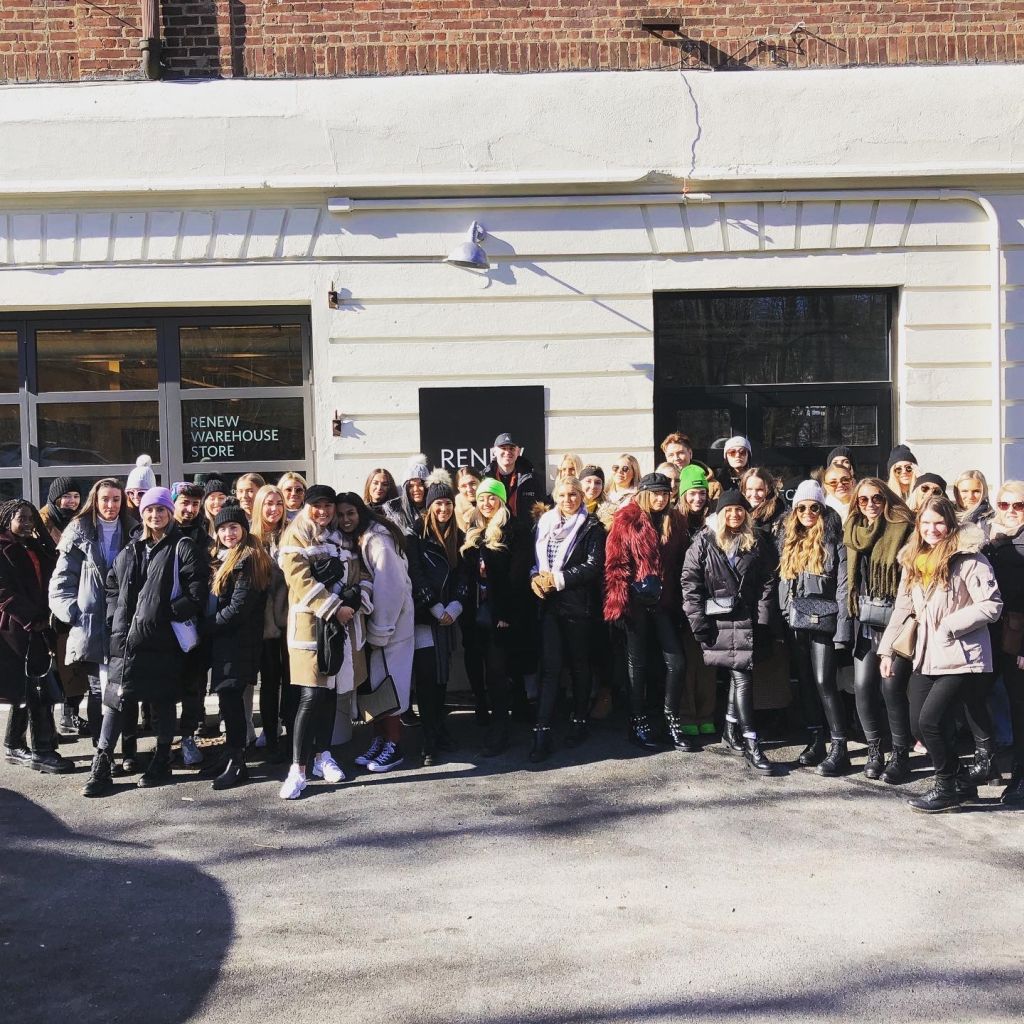 Let me share some of my fellow FB&M students experiences from
over the last few years:
"We went to London for a few days, which was the highlight of Level 4 for me! We took a private tour around Harrod's and we were able to have a tour around the River Island Headquarters, which made me realise how much I wanted to work in the fashion industry. I left London feeling empowered and motivated to set out my goals for the next two years."
Emily Berry
"My proudest achievement at Manchester Fashion Institute was being able to secure a Buying placement at H&M, which was extremely exciting. During the same year, I was selected, alongside a few other students, to travel to Delhi as part of a Manchester Fashion Institute X Pearl Academy collaborative project, where we visited textile factories, galleries and flea markets, which gave an insight into the production process of garments."
Jahnavi Jethani
"In Level 5, I enjoyed getting to develop my professional skills further. Learning what the industry was looking for in a graduate and what I could do to make myself stand out in a professional light made applying for placements a less stressful process as I felt confident within myself and my abilities."
Katie Lee
"In Level 6, I have thoroughly enjoyed the Fashion Enterprise Project; having freedom to explore a topic that is engaging, as well as the being able to address various aspects of a business plan, which we covered in every module across the course, is something I feel I have excelled at."
Daniel Moult
What does the future hold?
Covid-19 is not holding us back from our dream careers! Some of us have already secured roles at global brands such as Farfetch, GOAT, JD Sports, boohooMAN, Fortnum & Mason and H&M. Others are continuing their studies at postgraduate level or, like myself, are starting their own businesses. Fellow student Tom Brown owns REMATCH FC, which aims to introduce the conversation of sustainability in football by upcycling and repairing second hand product. It is wonderful to see so many of us achieving our goals and heading in such unique directions.
Tom Brown REMATCH FC
Finally, a very big thank you to our lecturers who have provided us with so much support over the last three/four years. Thank you for your hard work and encouragement. This cohort is leaving stronger, more determined, and more ambitious than ever to achieve our goals.
A fond farewell from the Fashion Business and Management team…
Julie Hodson, Programme Leader, BA (Hons) Fashion Business and Management
On behalf of the Fashion Business and Management team, we have all had the pleasure of getting to know every one of our graduates and watching their journey with us. What a remarkable Class of 2021 they have been!
We now have the pleasure of watching them becoming our alumni and stand proud as they go on to be our future leaders, innovators, and entrepreneurs. The team knows they will flourish in whatever they do as they do so with confidence and ambition, and with empathy, understanding and respect for all.
We wish them all every success for their future and look forward to celebrating their achievements at graduation!
Enterprise Project Business Proposals