Jennifer Shaw
BA (Hons) Fashion Design and Technology (Womenswear) 2021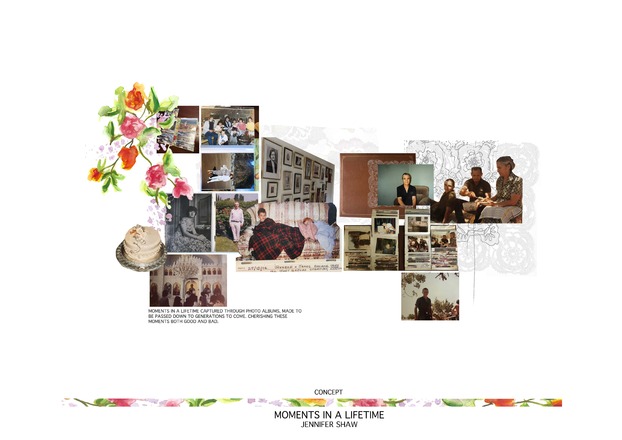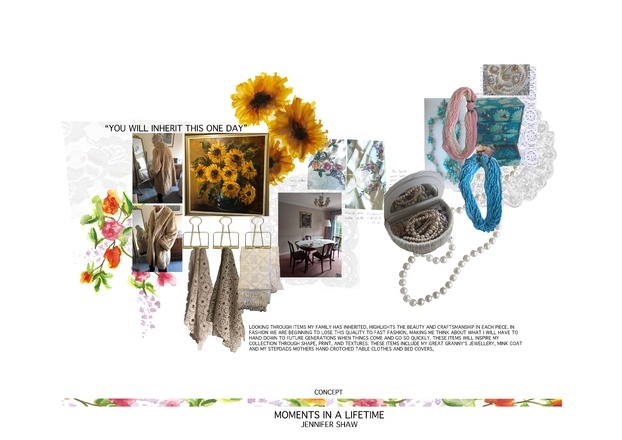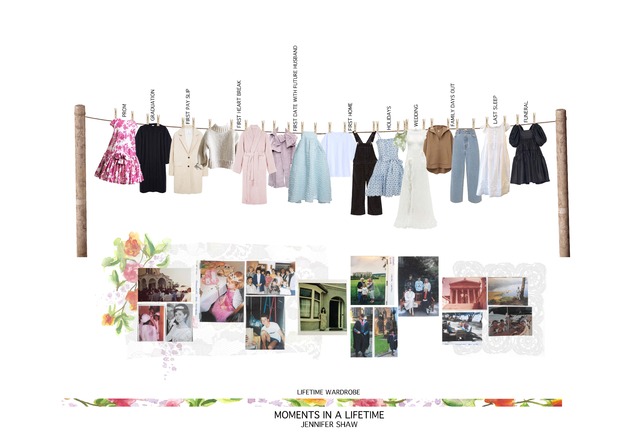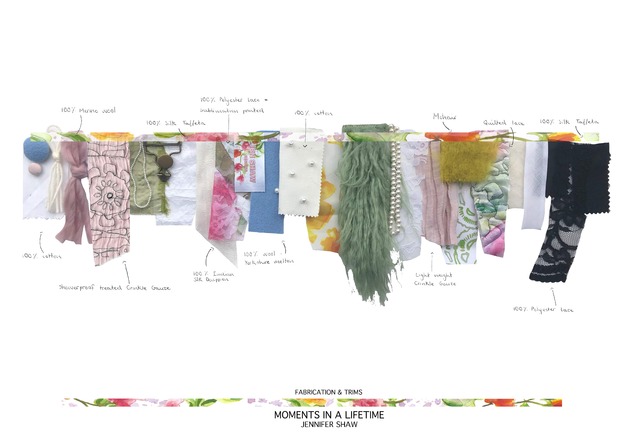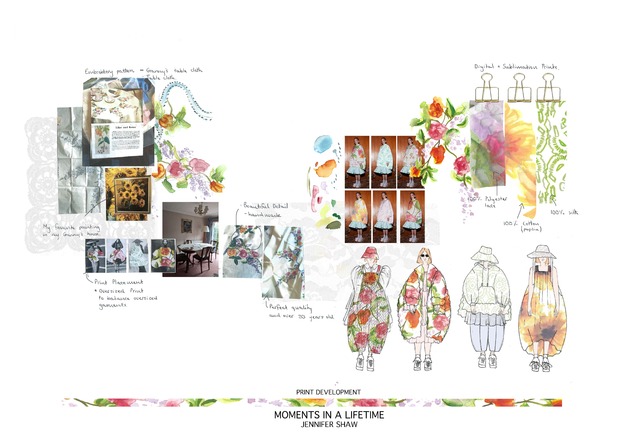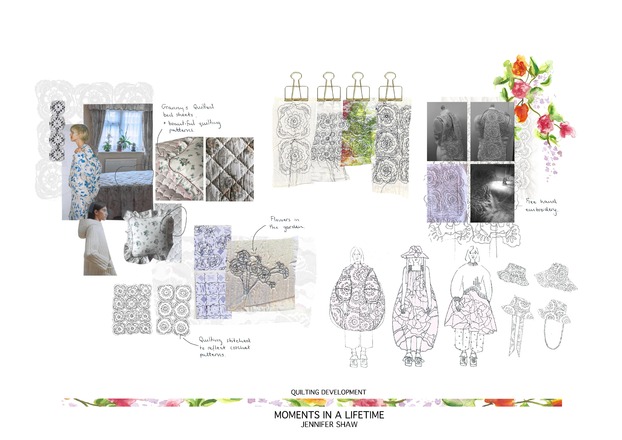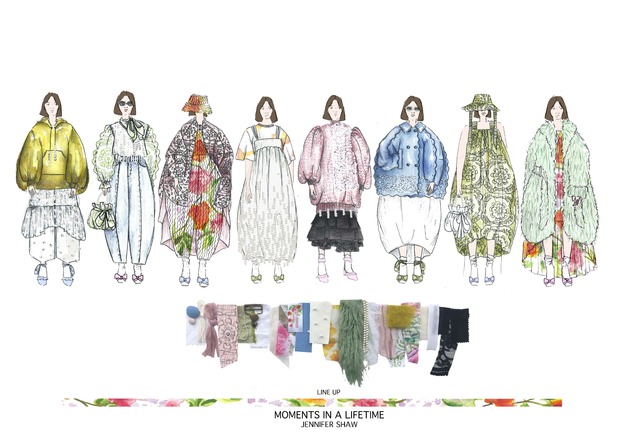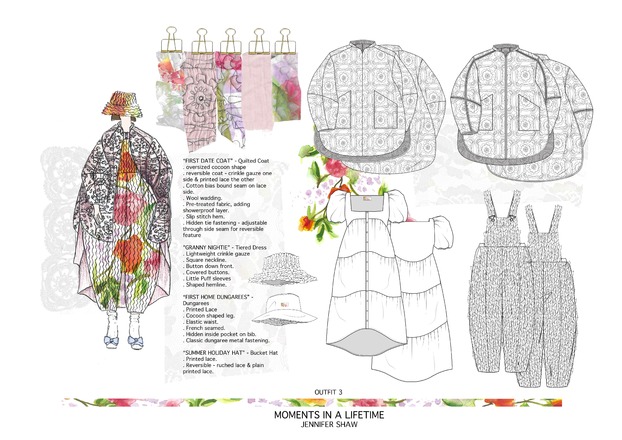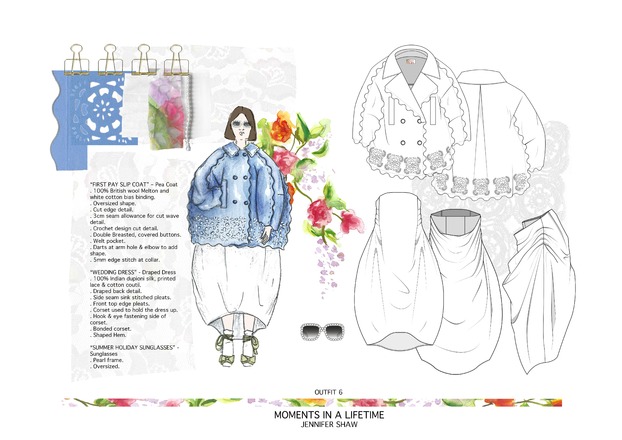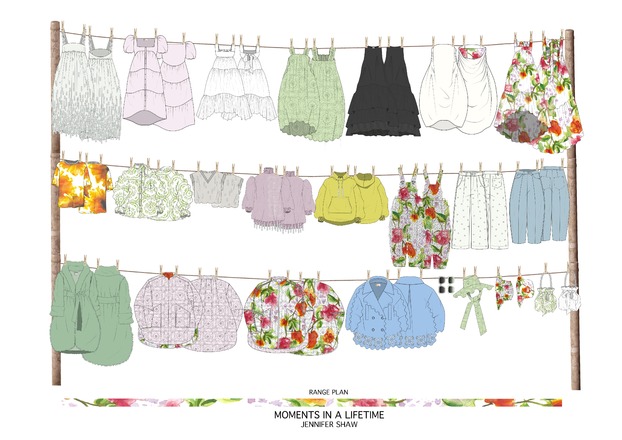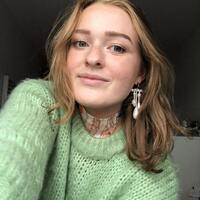 Jennifer Shaw
BA (Hons) Fashion Design and Technology (Womenswear) 2021
The womenswear collection MOMENTS IN A LIFETIME takes memories captured in photo albums and cherishes them for future generations.
The concept developed whilst whilst reminiscing with family, looking through old photo albums. Poignant moments include: graduation, buying a first home and receiving a first pay slip to buy a a staple piece of clothing, to be worn again and again.
In contrast to our current throw away society, examining inherited family items and garments, highlighted the beauty and craftsmanship in each piece. At an ever increasing rate clothes are bought, worn and discarded. This led me to question what will I have to hand down to future generations?
So I used items and garments from the past to inspire shape, print and textures. Additionally, the use of high quality fabrications and finishes to ensure longevity.
Print and embroidery are a key focus, playing with scale and using digital printing technologies to achieve a contemporary aesthetic. To emphasise craftsmanship, florals were hand painted using watercolours inspired by granny's 60 year old hand embroidered tablecloth. For a delicate touch within bold and vibrant prints, a sublimation technique was used to a create lace effect inspired by granny's curtains.
Awards:
Graduate Fashion Foundation Range Plan Award - SHORTLISTED 2021
Outerwear Lookbook publication, photography by Tanzaro Creative FEATURED 2018
Placement:
ASOS London: Womenswear Design Intern
This allowed me to develop new skills and professionalism which I was able to apply into my personal practice, and will take forward into future career opportunties.
https://www.graduatefashionfoundation.com/gfw-awards-scholarships
Contact Jennifer
Email
Website
Instagram
LinkedIn