International Fibre Recycling Symposium Manchester (June 2017)
Sixth Fibre Recycling Symposium
7-8 June 2017
Manchester Metropolitan University
The 6th International Fibre Recycling Symposium took place in the UK on 7th and 8th June 2017 at Manchester Metropolitan University.

Keynote Speakers
The Fibre Recycling Symposium has been running since 2007 under the joint chairmanship of University of Bolton (UK), Georgia Tech (USA) and Kyoto Institute of Technology (Japan). However, in 2017 to make the event even more inclusive, the Textile Institute and Manchester Metropolitan University have joined the team to bring together an even broader spectrum of research and industrialists in the recycling arena. The extended platform will be used to disseminate and show case latest innovations in research and their practical implementation within industry.
Over 250 million tonnes of controlled waste is generated in UK every year. About 10% or 25 million tonnes of this waste are in plastic and/or fibrous form which is mostly destined for landfills. Much of this potentially "valuable" waste could be reused or reprocessed and fed back into production and re-fabrication if appropriate means of recycling, reprocessing and regenerations are in place. Although UK has recently been more active in recycling initiatives, much more needs to be done if pressing environmental issues regarding waste are to be taken seriously and responsibly.
The objective of this international Symposium is to build on the last five symposiums by providing a dynamic forum for exchange of ideas, exploring latest research findings and to generate international cooperation and dialogue in fibre recycling area and more importantly engage industry in taking a lead in exploiting emerging technologies.
Topics of Focus
Natural and synthetic fibre recycling
Carpet recycling
Reuse of fibrous waste in new applications
Clean processing techniques and machineries
Environmental impacts and possible solutions
Role of design and fashion in recycling
Pre-and-post consumer waste processing
Consumer behaviour affecting discarded textiles
Circular economy case studies
Future trends and innovations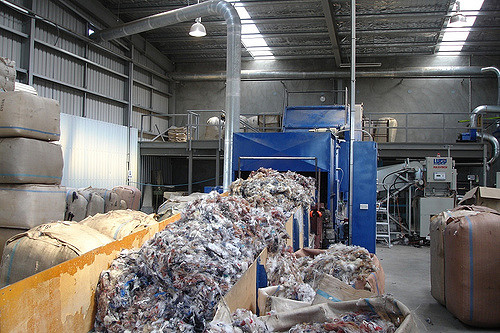 Who should attend?
This is an opportunity for academics, manufacturers and industrialists who are aware of the menace of waste and appreciate the consequences of inaction on the quality of life we all cherish. The opportunity of exchanging ideas and introducing novel and innovative technologies is also expected to be beneficial to all who are decision makers, environmentalists and those who produce the waste in the first place and/or those who are responsible for its collection. All in all, the event will pave the way for interdisciplinary collaboration and cooperation at national and international levels.
Support and Sponsorship
Support and sponsorship from industry, county councils and municipalities are encouraged and welcomed by the organising team and special packages are earmarked for those who take advantage of this opportunity. For further details please view the Sponsorship Support Packages.
Call for Papers
Short abstracts should be submitted using EasyChair as soon as possible but no later than 24th March 2017. You will need to create a user account on the EasyChair site if you do not already have one. Once approved, as a full paper or a poster, the authors will be asked to submit manuscript for the proceedings. For further details and instructions for submitting full papers and posters, please download the Abstract/Paper/Poster Guidelines.
Registration Fees
Registration fees for all attendees are shown below:
| Symposium Packages | Rate | Closing Date |
| --- | --- | --- |
| Delegate Full Symposium Package | £300 | 21/05/2017 |
| Speaker-Full Symposium | £250 | 21/05/2017 |
| Delegate core session only | £165 | 21/05/2017 |
| Day Rate | £160 | 21/05/2017 |
| Student/Staff Day Rate | £80 | 21/05/2017 |
Symposium Dinner and Trips
All delegates are invited to take advantage of the Symposium dinner which would allow further interaction and networking.
All delegates are encouraged to take advantage of the trip to one of UK's state of the arts recycling centres where you get the opportunity to see the facilities in action and to talk to staff.
Delegates are also advised to take full advantage of visiting the world famous Manchester United football site for close inspection and indulge in the club's memorabilia.
| Social Packages | Rate | Closing Date |
| --- | --- | --- |
| Symposium Dinner (Addition guest/day rate supplement ) | £41 | 21/05/2017 |
| Tour of Manchester Utd FC Stadium | £26 | 21/05/2017 |
| Industry Site Visit | £0 | 21/05/2017 |

Symposium Programme
Wednesday 7 June 2017
| | |
| --- | --- |
| 8.30 | Registration and Coffee |
| 9.00 | Opening Session: Welcome from Prof Martyn Evans |
Symposium Theme: Circular Economy
Chair: Professor Walter Leal
| | |
| --- | --- |
| 9.15 | Keynote: Dr Arun Aneja, Shaping the Circular Economy-Textile Redesign |
| 9.45 | Richard Delahay and David Tyler, The Resyntex Approach to the Circular Economy |
| 10.10 | Nick Morley, Nia Bell, Kate Riley and Peter Lee, Tackling Problematic Textile Waste streams |
| 10.35 | Valérie Julie Boiten, Sara Li-Chou Han and David Tyler, Circular Economy Stakeholder Perspectives: Textile Collection Strategies to Support Material Circularity |
| 11.00 | Coffee Break |
| 11.15 | Traci Kinden and Gwen Cunningham, Circular Textiles Infrastructure |
| 11.40 | Kate Goldsworthy and Dawn Ellams, Co-Designing A Circular Economy: An Interdisciplinary Lifecycle Thinking Tool |
| 12.05 | Roozbeh Kalateh, Aimaro Sanna, Danmei Sun and James McVee, Recycling of Textile Waste Through Pyrolysis Process |
| 12.30 | Panel Discussions and Questions |
| 1.00 | Lunch |
Symposium Theme: New Technologies & Innovations
Chair: Dr Gail Baugh
| | |
| --- | --- |
| 2.30 | Keynote: Professor Stephen Jenkinson, The Challenge of Taking Fibre out of the Domestic Waste Stream for a Major Urban Conurbation – A Case Study of Greater Manchester |
| 3.00 | Keiichiro Sano and Masahiko Morikawa, Eco Tableware Using Waste of Bamboo and Polypropylene |
| 3.25 | Burçin Eser, Pınar Çelik and Ahmet Cay, Effects of Cotton Textile Waste Properties on Recyled Fibre Quality After Shredding |
| 3.50 | Teruo Kimura and Masashi Nakao, Recyclability of Waste Feather as Reinforcement of Green Composites |
| 4.15 | Tea Break |
| 4.30 | David Garlovsky, Circular Economy in the Manufacture of a Recycled Cotton/Denim Low Carbon Thermal and Acoustic Insulation |
| 4.55 | Ceri Loxton, Rob Elias and Craig Bartlett, Recycled Fibres in the Insulations Sector for construction applications |
| 5.20 | Professor Mohsen Miraftab, Review of Textile Waste Research at University of Bolton |
| 5.45 | Ali Harlin, Pirjo Heikkilä and Henna Knuutila, Development of Textile Recycling Chain in Finland – Insights of TELEKETJU Project |
| 6.10 | Panel Discussion and Questions |
| 6.45 | Civic Reception Manchester Town Hall |
| 7.45 | Symposium Dinner – Don Giovanni's (pre-book only) |
Thursday 8 June 2017
| | |
| --- | --- |
| 8.45 | Registration and Coffee |
Symposium Theme: Design/Fashion and Recyclability
Chair: Dr Arun Aneja
| | |
| --- | --- |
| 09.15 | Keynote: Dr Gail Baugh, The New Business Model for Textile and Apparel Industries |
| 09.45 | Connie Ulasewicz and Gail Baugh, Toward Zero Textile Waste |
| 10.25 | Cindy Cordoba Arroyo, Circular Model For Apparel And Textile Products by NASA Indigenous People From the Pacific Region of Colombia |
| 10.50 | Naa Omai Sawyerr and Richard Acquaye, Using Low Tech Processes to Convert Used Polypropylene Sacks to Fashion Accessories in Ghana |
| 11.15 | Coffee Break |
| 11.30 | Jane Gardner, Carpet Recycling UK – Recovering Value From Carpet Fibres |
| 11.55 | Laetitia Forst, Towards A Design-Led Understanding Of Blends For Recyclability |
| 12.20 | Joanna Blanco-Velo, David Tyler and Phoebe Apeagyei, Familiar But Not Understood: Lexical Barriers to Mainstream Fashion Product Literacy |
| 12.45 | Panel Discussions and Questions |
| 1.15 | Closing Session |
| 1.20 | Lunch |
| 2.40 | Company visit (Municipal waste recycling) / MUC grounds tour |
Poster display sessions and display of Fibersort scanning technology are provided throughout the event
Please note this programme is subject to change
Keynote Speakers
Dr Arun Aneja
Global Technology Executive, USA
Professor Stephen Jenkinson
CEO at Viridor Laing, UK
Gail Baugh
Management & Apparel / Recycling, USA
Organising Committee
The Symposium UK section is organised by:
Professor Mohsen Miraftab
Professor of Fibre Science & Technology
University of Bolton
Institute for Materials Research and Innovation
Deane Road
Bolton BL3 5AB
United Kingdom
Tel: +44 (1204) 903663
Email: miraftab@hotmail.co.uk
Dr. David Tyler
Reader
Manchester Fashion Institute
Manchester Metropolitan University,
Righton Building,
Cavendish Street,
Manchester, M15 6BG
United Kingdom
Tel: +44 161 247 2636
Email: d.tyler@mmu.ac.uk
Professor Walter Leal
School of Science and the Environment
Manchester Metropolitan University
Chester Street
Manchester, M1 5GD
United Kingdom
Email: w.leal@mmu.ac.uk
The Textile Institute
International Headquarters
8th Floor St James' Buildings
79 Oxford Street
Manchester
M1 6FQ UK
T: +44 (0)161 237 1188
E: tiihq@textileinst.org.uk
www.textileinstitute.org
International Advisory Committee