Eleanor Jones
BA (Hons) Fashion 2020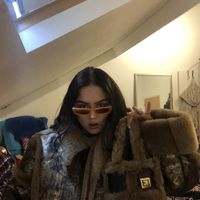 Eleanor Jones
BA (Hons) Fashion 2020
My work has derived from a fascination into the 1940's and Chinese culture. The main focal points of research included female domestication, World War Two, the symbolic representation of uniform, Chinese military wear and traditional Chinese silhouettes. The use of traditional and masculine fabrics like wools and leather played a strong role in the nature of my collection being outerwear and accessories based.
I experimented with laser cutting and engraving in acrylic and wool as surface detail is an important part in my design process. From my research into 1940's female domestication and gender roles I began collecting 1940's sewing patterns. Unlike patterns today, I love the detailed information and the nostalgic feel of the patterns. Even the paper type felt much more homemade. This led to the idea of using women's pattern pieces as inserts into men's sized garments so you can clearly see the difference between male and female proportions.
Craftsmanship and attention to the finer details is always an important consideration when referring back to my design philosophy. I've had the modern day woman in mind when designing, which has made my work practical, functional and high quality.
Contact Eleanor
Email
Instagram
LinkedIn
Arts Thread Portfolio