Zoe Wilson
BA (Hons) Fashion Buying and Merchandising 2021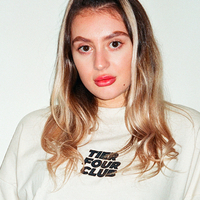 Zoe Wilson
BA (Hons) Fashion Buying and Merchandising 2021
Zoë's expertise lies primarily within buying, following a year in industry and continued time at N Brown, Manchester, as an assistant buyer. This experience gave Zoë the confidence to develop and launch Tier Four Club, a brand which she created with her course mate and friend, Jess Norman, as part of their final major project.
Tier Four Club is a unisex clothing brand for those who'd 'rather be at home' and was birthed out of lockdown, with the intention of 'uniting the unsociable'. The Covid-19 pandemic has played a huge role in Zoë's final year of university and Tier Four Club remains a tribute to the tough year the whole world has been facing.
More information on Tier Four Club can be found on tierfourclub.com / @tierfourclub
I am extremely grateful for the knowledge and skills that I have gained at MFI and I hope to continue to utilise and develop them throughout my time in the fashion industry.
TFC it's Friday
Tier Four Club...
Contact Zoe
Email
Website
Instagram
LinkedIn