Fashion Design & Technology Sportswear student wins Manchester City FC X PUMA Pride design competition
28 June 2021
Sportswear student see's her competition winning design come to life on Pride t-shirt being sold to raise funds for LGBTQ+ Community football initiatives through Football vs. Homophobia.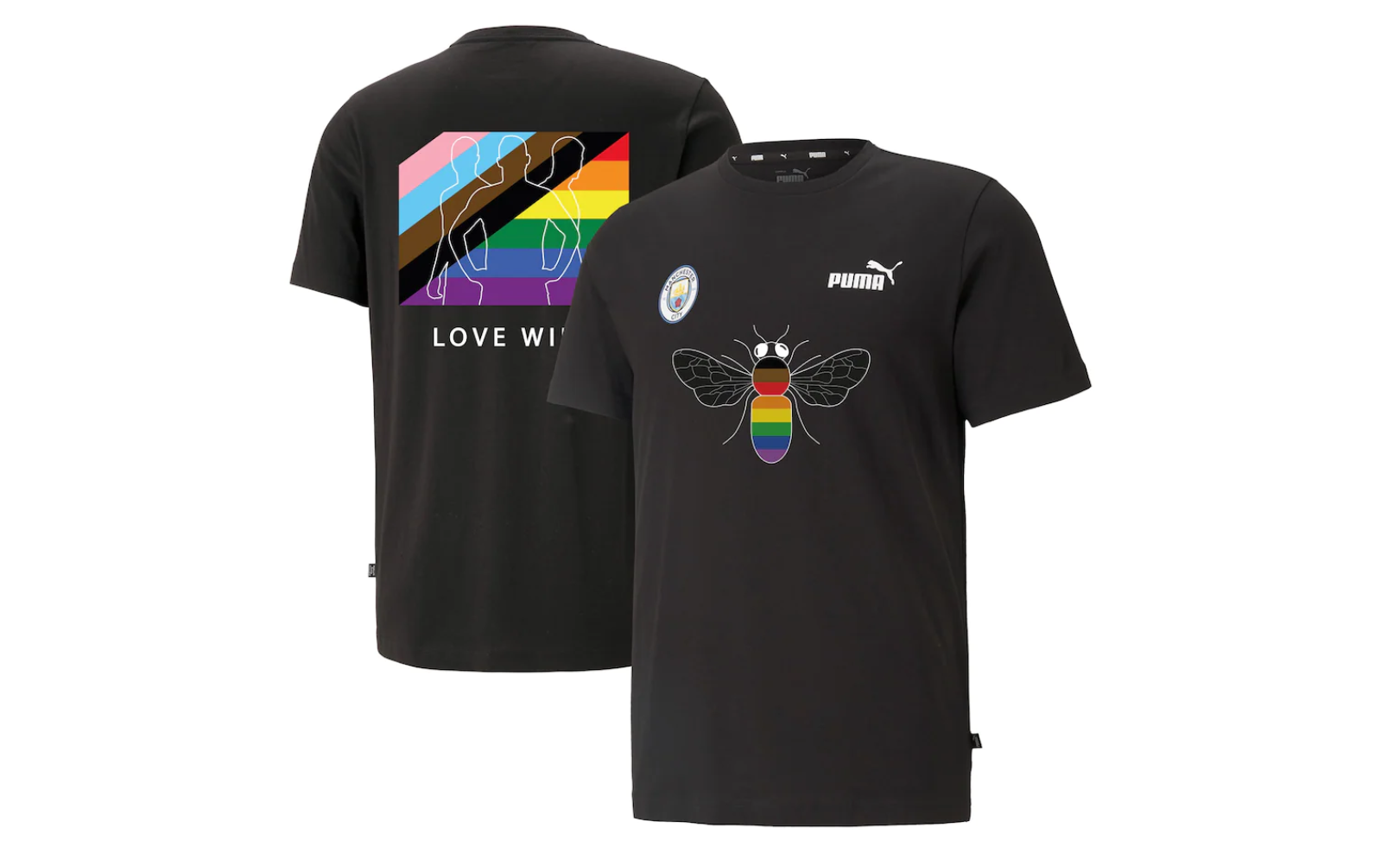 This month in celebration of Pride month, Manchester City Football Club and PUMA launched limited edition Pride t-shirts in collaboration with Canal Street Blues and Football vs. Homophobia – designed by Fashion Design & Technology Sportswear student Lily Cleal.
Lily won the competition with Manchester City FC to have her designs brought to life on a t-shirt. In addition to designing their official Pride Shirts, Lily has also been invited to join the Canal Street Blues' float in the Manchester Pride Parade and to attend a City home game in the PUMA Hospitality Box.
Lily stated "I was honestly speechless when I heard that I had won the competition and I couldn't stop smiling. I am really proud to have won the competition because all the proceeds will be donated to support LGBTQ+ football initiatives through Football VS Homophobia which I think is incredibly important and something amazing to be a part of."
Lily's design incorporates the worker bee on the front of the t-shirt with integrated Philadelphia pride flag to symbolise both the Manchester community and the LGBTQ+ community coming together as one to combat discrimination. The design for the back of the t-shirt features part of the modern pride flag with an outline of football players standing together alongside the wording 'love wins'.
Fashion Design & Technology Sportswear Senior Lecturer, Sarah Collins stated "We were all delighted to hear of Lily's success in the competition and proud of being able to support the important messages it brings to light. Working in collaboration with Puma and Manchester City FC is a fantastic experience for our students and we welcome the opportunity to celebrate diversity and inclusivity in our Manchester based community and beyond. As designer's we have an obligation to use our skills not only for commercial gain, but also to celebrate and empower people, Lily's work encapsulates this perfectly."
The t-shirts are available to purchase at the CityStore with all club and PUMA proceeds being donated to help support the LGBTQ+ Community football initiatives through Football vs. Homophobia.