Students made finalists for the Hempel Award the 29th China International Young Fashion Designers
24 February 2021
Sangharsha Gurung and Tamar Levy are finalists in this prestigious international competition.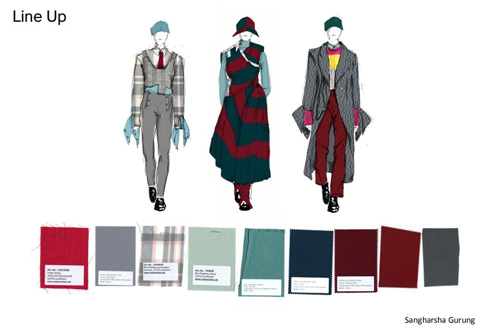 The initial evaluation of the Hempel Award – the 29th China International Young Fashion Designers Contest – was held on 1 February 2021 in Beijing. This year's theme is "Hard Candy Youth" and challenged designers to uncover the secrets of youth, and expose both the sweet and hard-core contrasts of being young.
This year's jury team consists of five fashion experts:
· Dangqi Li, Doctoral Supervisor of Academy of Arts & Design - Tsinghua University
· Wei Liu, Chief Designer of Beijing Meiguidaiwei Clothing Company Limited
· Lawrence Xu, Haute Couture Designer;
· Yutao Wang, China's Top Award-winning designer and Design Director of Beauty Berry Commerce (Beijing)
· You Zou, Professor and Doctoral Supervisor of School of Fashion - Beijing Institute of Fashion Technology
The competition, organised by the China Fashion Association, drew over 977 online entries from all over the world, including 16 countries and regions. After three rounds of reviewing and voting, the five judges selected 31 works for the final – two of which were BA (Hons) Fashion students, Sangharsha Gurung and Tamar Levy, being the only entries chosen across the whole of the United Kingdom.
Tamar's entry was inspired by black men's identity and challenges they face in society from a historical and contemporary standpoint. Sangharsha's entry focused on directional menswear, inspired by notions of fitting in.
Watch this space for news on how they get on.