Year in Review: Manchester Metropolitan's 2020 highlights
17 December 2020
The top stories from the last 12 months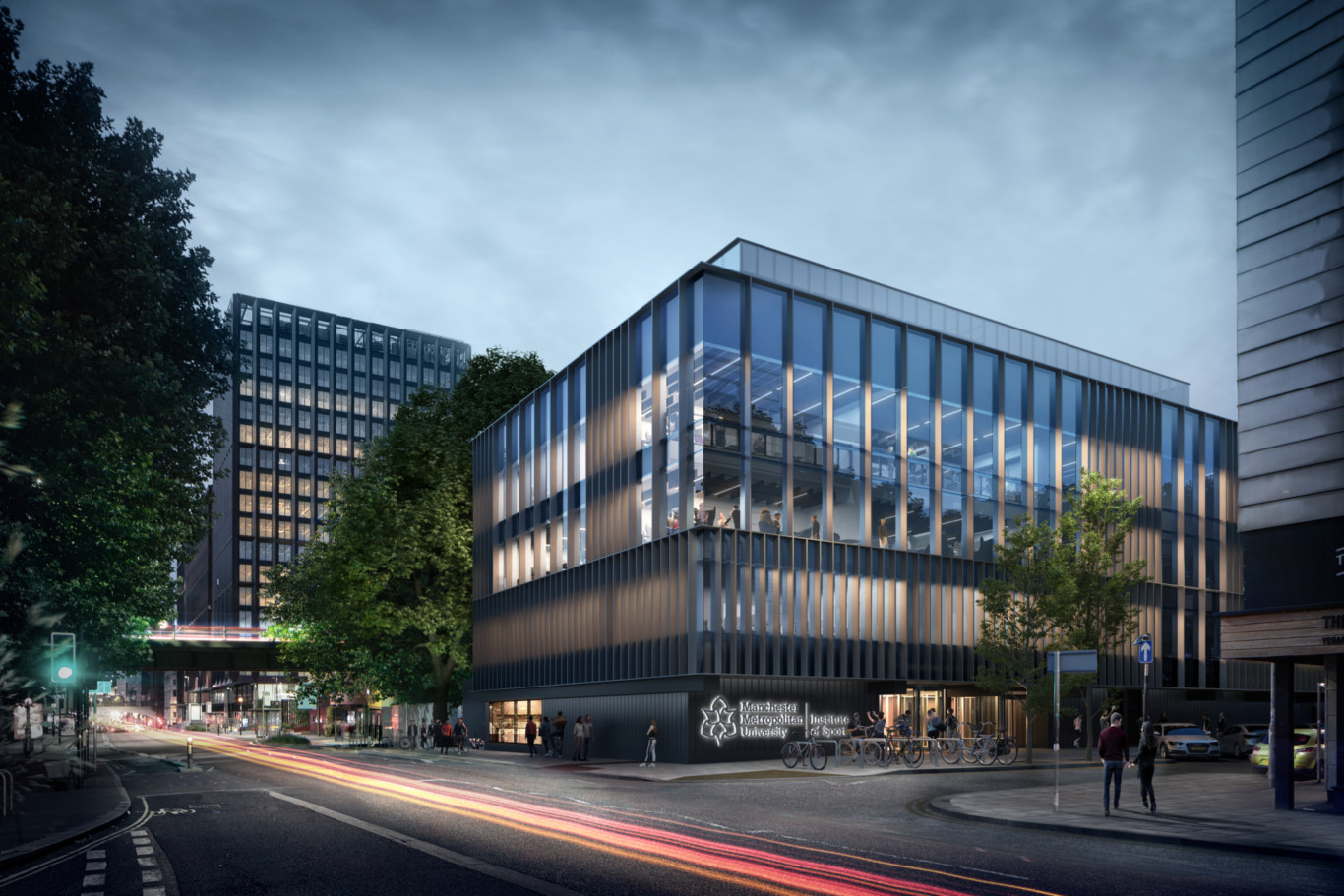 January
The University kick started the year by submitting exciting plans for the innovative new Science and Engineering building – a state-of-the-art facility which will provide new teaching spaces, cutting-edge laboratories, academic offices and learning areas as well as a new energy centre.
University sports engineers also hit the ground running, demonstrating their expertise by analysing what made Nike's record-breaking Vaporfly marathon trainer so contentious, securing national and international media coverage.
Adding to a great start to 2020, the Manchester Writing Competition again returned an outstanding international shortlist, established by Manchester Met Professor, and former Poet Laureate, Dame Carol Ann Duffy, this is the UK's biggest prize for unpublished writing, featuring some of the best up and coming writers from across the globe.

February
In February, Manchester Met celebrated winning the Queen's Anniversary Prize for its innovative multilingual poetry competition 'Mother Tongue Other Tongue,' with the Vice-Chancellor and Pro-Vice-Chancellor for Arts and Humanities receiving the award at Buckingham Palace.
Student athletes continued their own winning streak at the Para-cycling Track World Championship with honorary graduate Dame Sarah Storey, who has previously trained at our sport science facilities, taking three world titles at the competition.
The new home of the Manchester Metropolitan University Institute of Sport received planning approval. Opening in 2021, the Institute will bring together the Department of Sport and Exercise Sciences with world-leading researchers in musculoskeletal science from the Faculty of Science and Engineering, sports business experts from the Faculty of Business and Law and a range of experts from the Faculty of Health, Psychology and Social Care.
March
In March, Manchester School of Architecture continued its success, ranking 8th in the world in the QS League tables. Professor Kevin Singh joined the University later in the spring to lead it.
Highlighting the environmental innovation at the University, a project to transform waste plastic into new products as part of a pioneering €9.6 million project that will reduce the amount of single-use plastics destined for landfill was announced.
As the COVID-19 pandemic emerged, colleagues and students enlisted in the fight against the virus, delivering vital supplies for the NHS. This support continued through the spring and summer, as healthcare students and student nurses joined the frontline and the University innovated to create materials and donate to the social care sector.
April
As the UK entered a national lockdown, as well as making practical contributions to tackling COVID-19, Manchester Met experts offered their insights into the pandemic's impact on many industries and sectors - and ideas for recovery.
Business research showed that 750,000 self-employed people had missed out on support and there was advice on the economic support available for companies and entrepreneurs.
As British clothing manufacturers were asked to produce medical scrubs and gowns in bulk, Greater Manchester's mayor praised Manchester Fashion Institute's innovation and support for frontline NHS workers.
Manchester Met's Institute of Place Management developed a framework to help town centres address the effects of COVID-19 that, in the long-term, will support local authorities and policymakers working under the banner of the Government's High Streets Taskforce.
The University also demonstrated how arts and culture can support the whole community's morale through adversity, with Dame Carol Ann Duffy instigating WRITE where we are NOW, an international poetry initiative in response to the pandemic.
May
There was continued support for the wider community. An agreement led by Manchester Fashion Institute saw prisons make thousands of medical scrubs for use on the NHS frontline, based on a free digital design template developed by its fashion technicians.
Manchester Met donated more than £10,000 of medical safety equipment to Manchester University NHS Foundation Trust, as well as food and supplies to local food banks and services working with vulnerable people.
Looking beyond COVID, the Future Economies Research Centre examined why the UK needs a 'transformational' green economic rescue package. An international research project led by researchers in Science and Engineering found that tropical forests can continue to store large amounts of carbon with climate change, but only if greenhouse gas emissions are cut – a discovery which was covered by hundreds of national and international media outlets.
June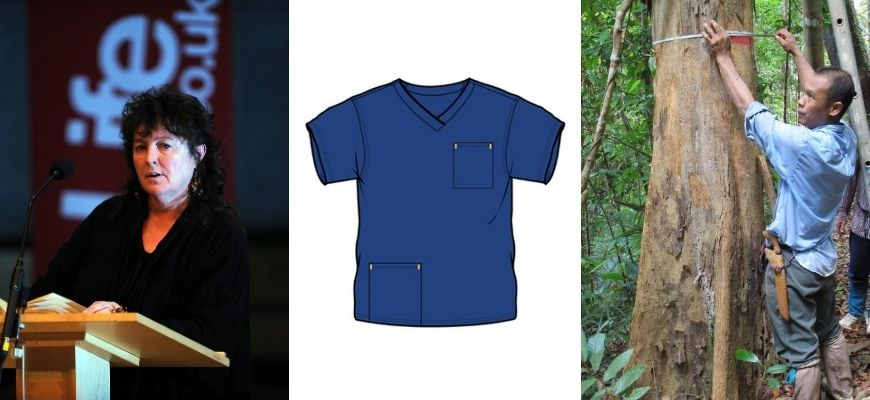 The University's strong performance in league tables continued, as Manchester Met climbed to 54th position in the Complete University Guide – its highest ever ranking.
In the 2020 Teaching Awards Derren Wilson, Lecturer in Web Design and Front End Development, won the highly commended 'Teacher of the Year' Award and Manchester Law School took home 'Department of the Year.'
July
Throughout July and early August, across the University, there were online 'End of Year Celebration' events hosted with final-year students, bringing together the 'Class of 2020' and providing a positive close to their time with at the University.
Building on the Queen's Anniversary Prize success, there was a record number of entrants for the award-winning multilingual poetry competition 'Mother Tongue Other Tongue' - run entirely virtually for the first time.
The implementation of the University's Estates Masterplan continued at pace through the summer; in June construction began to create the cornerstone of the Institute of Sport and there was a first peek at the new Arts and Humanities building.
August
There was extensive national media interest in the University's clearing operation and response to the change of government policy on A-level grades, with the Vice-Chancellor Professor Malcolm Press and Professor Helen Laville, Pro-Vice-Chancellor for Education, providing advice for students going through the process on flagship news bulletins live from campus.
September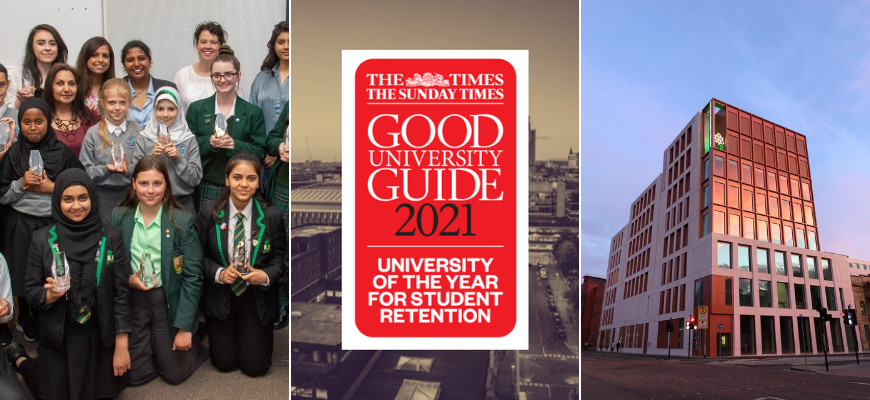 The new academic year started with recognition as The Sunday Times University of the Year for Student Retention, an award which acknowledged Manchester Met's commitment to helping every student to achieve their ambition.
A Knowledge Transfer Partnership (KTP) with Rochdale-based Aquacheck Engineering to develop a smart mobile water metering device was named Best KTP in the KTP Best of Best Awards 2020 - a top award for university-industry projects. KTPs help businesses in the UK to innovate and grow by linking them with an academic or research organisation.
In partnership with SJM Concerts, the University launched a scholarship programme to support and encourage BAME students to study at Manchester Met. This will see £1,200 gifted each year to 36 students on Events, Business, Law and Music and Sound Design courses.
October
The University celebrated Black History Month with activities and content throughout October. As a highlight, the University marked the 75th Anniversary of Manchester's role in the fifth Pan African Congress with a four-day virtual celebration in collaboration with other universities in the region. This included events with internationally renowned historians, writers and performers.
Poet and lecturer Malika Booker won Best Single Poem in the Forward Prizes for Poetry with The Little Miracles, inspired by her experience of caring for her mother. The prize honours excellence in contemporary poetry published in the UK and Ireland across three categories. You can listen to the poem here.
Manchester Met was rated as one of the most renewable energy friendly UK universities in the Uswitch Renewable University Report 2020, recognised for its renewable installations, green energy tariff and Carbon Management Plan.
November
In November, the University's innovative Rise programme, which helps students develop new skills through extra opportunities to learn, work and travel, won the 'Course Design, Retention and Student Outcomes' category at the Guardian University Awards. The Manchester Fuel Cell Innovation Centre also finished as runner-up in the 'Business Collaboration' category.
The School of Digital Arts (SODA) launched the first Digital UX degree apprenticeship in the UK. An innovative blend of higher education and work-based learning that enables apprentices to earn while they learn skills for a successful career in digital UX, the apprenticeship was developed with the BBC, digital design studio, Magnetic North and employers from several sectors.
December
The early life story of author and lecturer Alex Wheatle was retold in acclaimed film director, Steve McQueen's BBC Small Axe series. A moving episode followed his childhood journey from care home, to finding a community and passion for music, and finally to a spell in prison after the 1981 Brixton Uprising, where he 'confronted his past and saw a path to healing'.
To close the year, the University reaffirmed its long-term commitment to charities and partners across the Hulme community, to help them reach and support the most vulnerable this winter. Staff members and Student Officers have volunteered their time and Manchester Met donated items for 80 care packages and 100 learning packs for local families.