Fashion graduates take home top prizes in innovation and social responsibility
29 September 2020
Two Manchester Fashion Institute graduates were victorious at the prestigious Graduate Fashion Foundation Awards 2020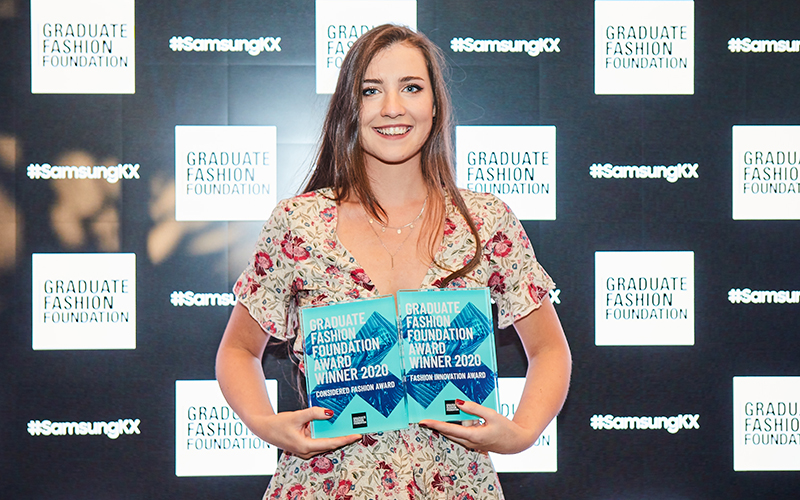 Two recent Manchester Fashion Institute graduates have taken home prizes at the prestigious Graduate Fashion Foundation Awards 2020, which celebrate the best in new talent.

BA (Hons) Fashion Design and Technology graduate Sophie Parnaby was announced as the winner of both the Considered Fashion Award and the Fashion Innovation Award. BA (Hons) Fashion Art Direction graduate Ella Kenneally was chosen for the Fashion Publication Award.

The Graduate Fashion Foundation Awards (GFF) reward excellence and are crucial for attracting industry interest. This year's awards have been revised to consider digital designs to reflect the current COVID-19 situation.

The winners were announced during a socially distanced ceremony, at Samsung KX in London, live streamed as part of Graduate Fashion Week activities during London Fashion Week (17–22 September).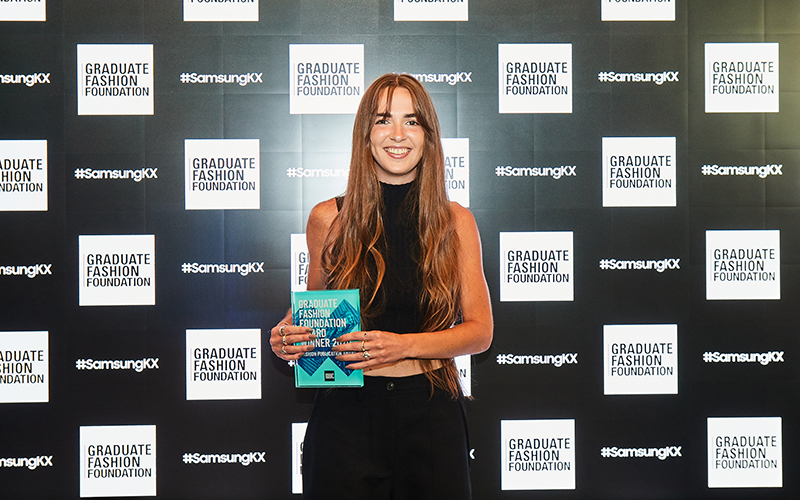 Parnaby's final collection developed an innovative manufacturing process to provide a sustainable alternative to embellishment production methods.
Parnaby said: "It honestly feels amazing to have won the Innovation and Considered Design awards. I've been developing more sustainable manufacturing methods using 3D print throughout final year, so it's been a great experience having the opportunity to present this whole development process to the industry judges.

"My interest in sustainable design has advanced during my time studying at Manchester Metropolitan. It means a lot to win the considered design award for this reason, it's great to be able to contribute research and this process is something I'd love to take forward to have a positive impact on the industry. It's been a challenging year and I never expected to be finishing my degree at home, so it's a really positive way to finish having my work recognised by Graduate Fashion Foundation."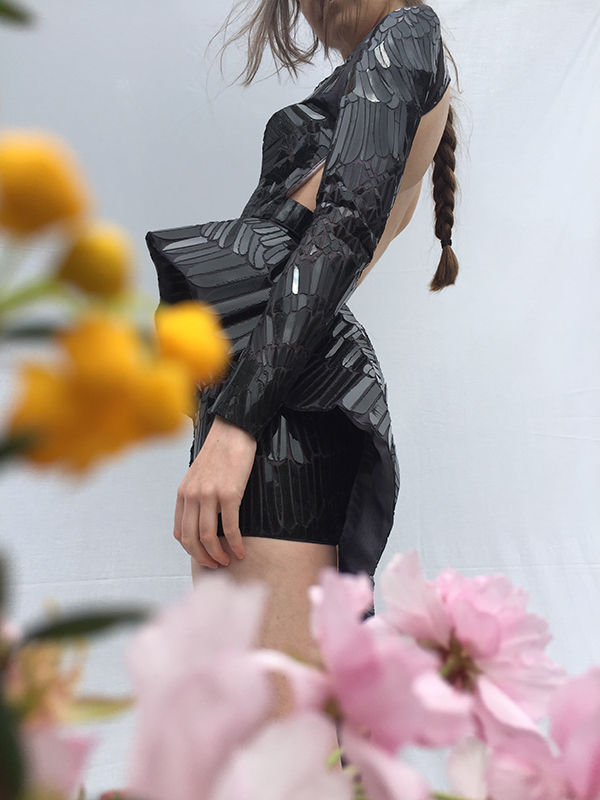 Kenneally received the Fashion Publication Award for producing an inspiring and innovative digital fashion publication that resonated with the industry and intended audience. Her work explores the themes of identity and womanhood, giving a voice to those often overlooked in society. Her final collection W O M A N U P, features three projects exploring women in male dominated spaces.
Kenneally said: "I have been attending Graduate Fashion Week since the age of 11 and never thought I would be on the receiving end of an award. Fashion publications have been a huge part of my life, I have always been infatuated with the physicality, beauty and importance of them and have consistently wanted to construct my own message and place in the industry, through my creations. I try to give a voice to those often overlooked in society and work with them in a way they want to be seen and not a way society dictates.

"By winning this award it shines a light on those important voices I try to so hard to project and give a platform to. I am so grateful for the opportunity to be able to share my work and have it recognised throughout the Graduate Fashion Foundation. The award is not only for me, but for all those I create work with, about and for."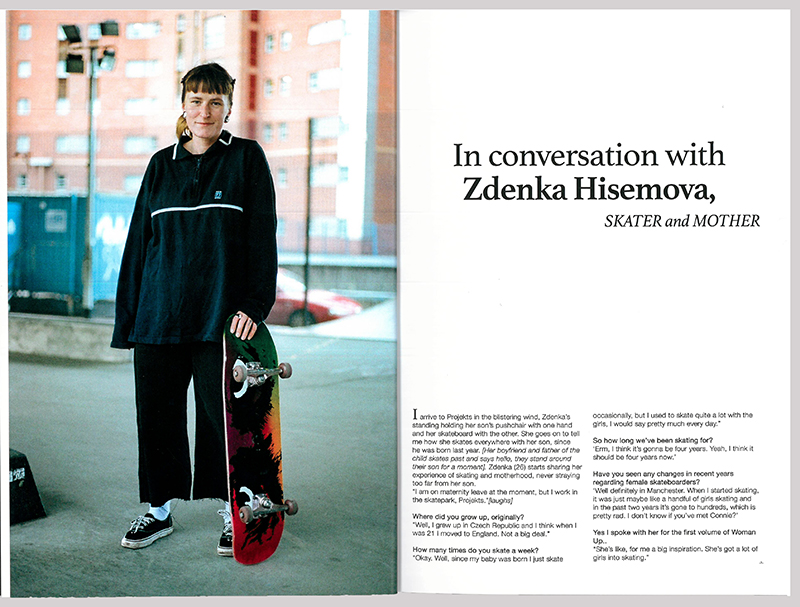 Judging took place online in June via Zoom by a panel of leading industry experts including GFF President Hilary Alexander OBE, designers Henry Holland, Christopher Raeburn, Priya Ahluwalia, Bianca Saunders, David Koma and Patrick McDowell and stylist Rebekkah Roy.

Jo Jenkinson, Deputy Head (Fashion) at Manchester Fashion Institute, Manchester Metropolitan University, said: "We are very grateful to the Graduate Fashion Foundation for providing opportunities for graduates to get their work noticed through industry portfolio reviews, competitions, media campaigns, showrooms and, against the odds, the catwalk.

"The awards that Ella and Sophie picked up reflect the values of our fashion students and our fashion programmes here at Manchester Metropolitan. A sustainable, ethical, and 'considered' approach to fashion design is enabled by 'innovation', as Sophie's double win demonstrates. While Ella's fashion publication gives an authentic voice to women in male dominated sports, challenging societal stereotypes."

The awards ceremony was the culmination of a series of industry events for Graduate Fashion Week that shared the work of students from BA (Hons) Fashion, BA (Hons) Fashion Art Direction, BA (Hons) Fashion Promotion and BA (Hons) Fashion Design & Technology. This included the Class of 2020 Showroom which featured full outfits, and the Class of 2020 exhibition that featured full looks, displayed on mannequins, and portfolios.

A Digital Fashion presentation, featuring the fashion graduates launched on London Fashion Week's digital platform, while the GFF Catwalk Show was live streamed on the Graduate Fashion Week website and is available via catch-up.