Class of 2020
BA (Hons) Fashion Business and Management
Futureproofing the fashion manager of tomorrow
Guest Editor: Alexander Laughlin, Class of 2020
Fashion Business and Management is a course that fosters exceptional talent. Clear conceptual themes of innovation, fashion strategy and applied management theory are at the core of this degree finishing with a Fashion Enterprise Project, bringing together three years of learning. I have the pleasure of detailing the trials and tribulations of this truly enriching experience, the course content and those who made it possible to stand out from the rest.
The course focuses on moulding us into the managers of tomorrow able to navigate any storm, with a focus on kinaesthetic methods such as becoming actively involved in workshops and being encouraged to be critical in lectures. We learned invaluable software skills from querying databases to creating our own e-commerce sites and developing presentation skills for those all-important business meetings. All of this is underpinned by strong business theory in economics, big data, marketing, finance and law.
This year, Fashion Business & Management were awarded Chartered Management Institute HE partners of the year for outstanding positive impact, student experience, professional development and employability. It is the first time in the institute's history that a non-pure business school has been awarded this accolade. Our course leader Sam has been at the forefront of this, working closely with the professional body to provide a course with robust business and management content with a core focus on fashion.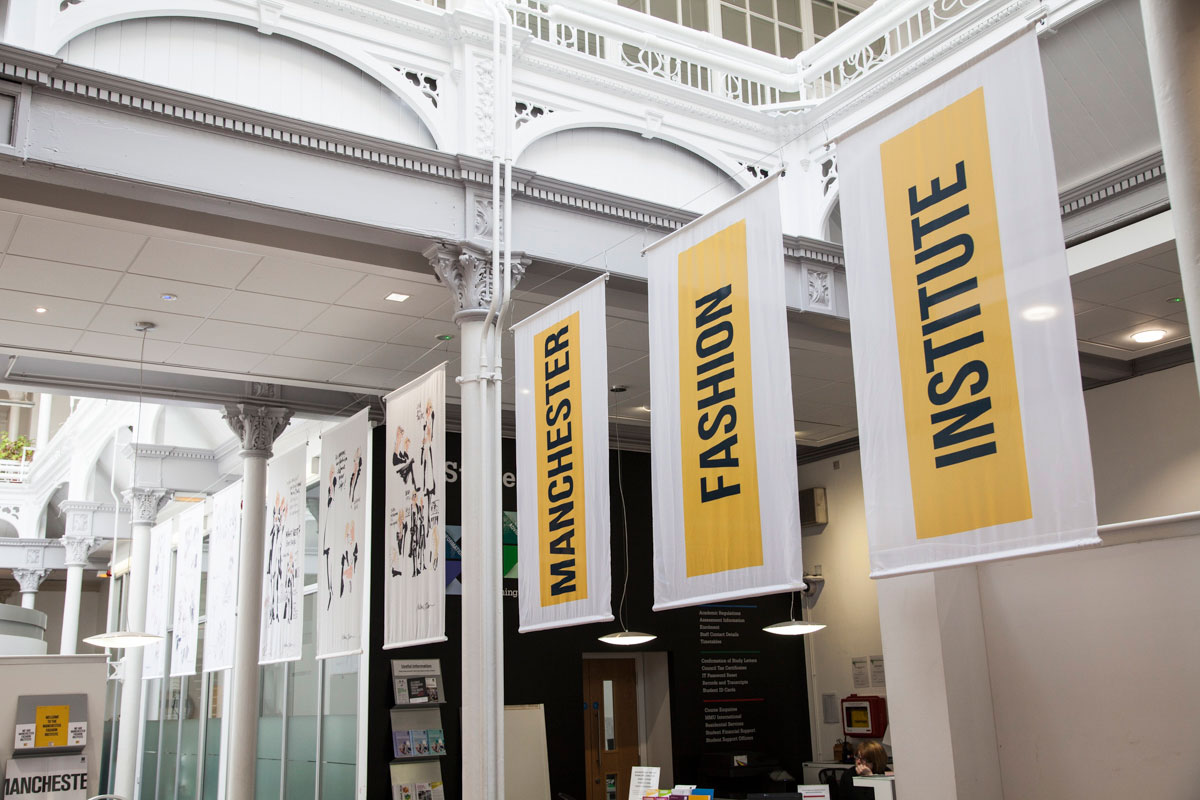 Typically, a CMI qualification wouldn't be aligned with a fashion course, yet student feedback has found the dual accreditation an invaluable tool for employment and we as graduates have Sam to thank for continuously pushing our involvement. For more information about CMI and the Partner awards please visit the CMI website and Manchester Met' news story.
Within the final year, we have three core themes that prepare us for the world of work.
SUSTAINABILITY
Truly ethical, eco-friendly and sustainable fashion is on the mainstream fashion agenda (finally!) As our degree draws to a close, our insightful knowledge and experience of the topic acts as the paragon of change, we will be the forerunners and shake the industry like never before, introducing sustainable fashion and ethical trading with fair conditions and inclusions for all. From Year 1 we learned of the importance of sustainability in fashion and how fast fashion was one of the biggest contributors to waste in the world. Units including Fashion Marketplace and Strategic Fashion Management allowed us to understand sustainability from a local and global perspective as well as understand consumer purchasing habits and supply chain strategies. Innovation and entrepreneurship are key elements to our course, focusing on delivering the acumen and drive needed to become a successful and innovative businessperson.
INNOVATION
For that is what true innovation is, is it not? To always be at the centre of conceptual change, perpetually working towards a more perfect image. The business world is full of obstacles that many fail to navigate successfully. A core theme of innovation challenges us as students to respond to change positively and progressively, rejecting the status quo, the units of digital enterprise and consumer journey actively encouraged us to rethink the norm. To innovate is to disrupt and we are here to change the world. Innovation and global strategy play a large factor here with students creating a new product and/or service, below my fellow students work indicates original thought, and showcases a real-world problem experienced by many.
ENTREPRENEURSHIP
A key theme on Fashion, Business and Management is entrepreneurship. The art of selling oneself is fundamental in business to reflect intrinsic values and core skills. As of February 2020, there are 2.4m students enrolled in the UK, comprised of many backgrounds and nationalities. Competition has never been so intense. The course actively integrates an entrepreneurship unit, Fashion Enterprise Project, within the final year challenging us to respond to leadership challenges in the contemporary fashion environment as well as increase our technological acumen with auxiliary support in excel workshops. We have seen fantastic work from the final projects with regards to entrepreneurship. From the skincare industry to recruitment, these students have showcased a true entrepreneurial spirit creating fully realised businesses with thought and purpose.
A global outlook isn't complete without field work, some of our cohort were presented with the opportunity to travel to Vietnam. From the perspective of us, the students, this was not only an opportunity to travel to the two major cities of Vietnam, Ho Chi Minh City and Hanoi, but to attend tailor-made trips to factories, visit local entrepreneurs, explore a fascinating thriving culture, eat the food and visit the magnificent world heritage sites.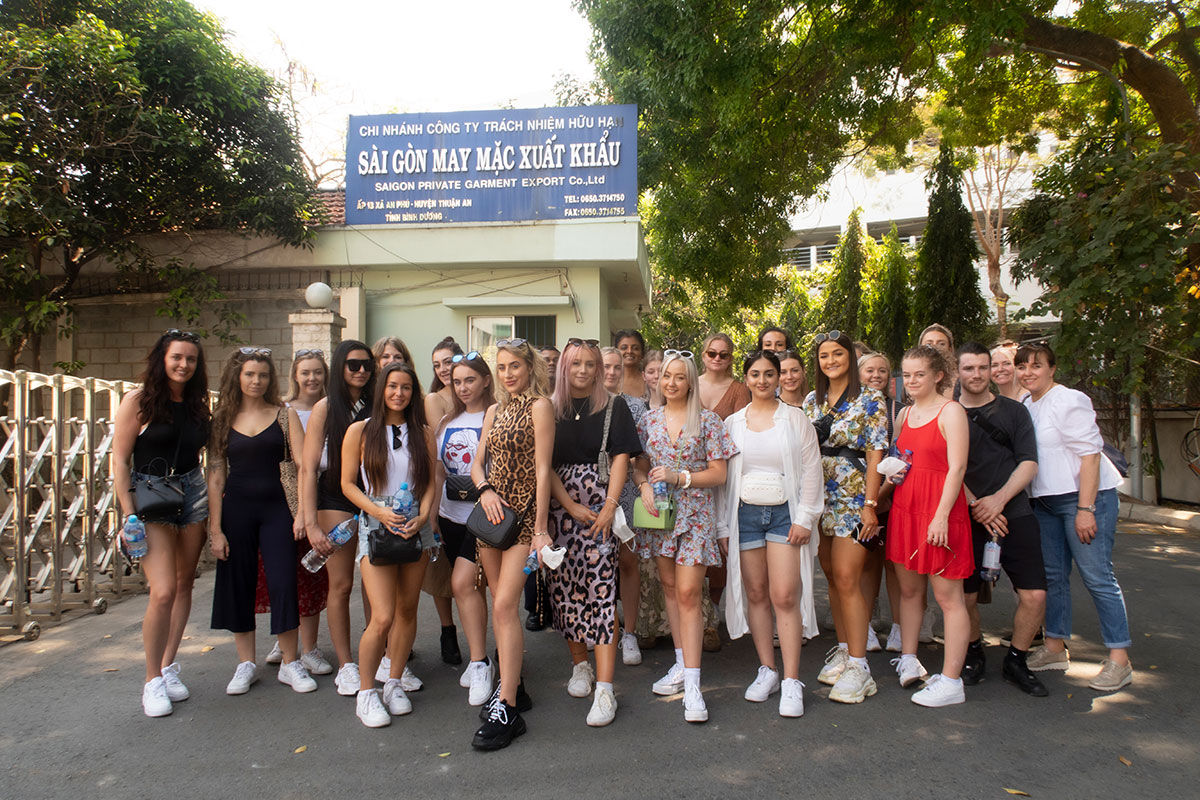 Talent is power; My fellow alumni are this power. A fairly tight knit and multi-faceted cohort suddenly found themselves rather aloof and scenes of graduation and celebration were soon put on indefinite hold. Yet we would not let this define us and dampen the end of our academic career. We the Class of 2020 have come from fledgling freshers to business professionals with the accredited title of Chartered Manager, a coveted and highly respected qualification which represents the rhinestone in our crown.
In the face of pandemic and global disorder we have risen to the occasion. As many students fall into the void and fail to achieve their potential, the Class of 2020 proved that not even the end of the world would stop us from achieving our absolute best.
Main Image Credits: Students – Ellen Yates & Taylor Yates, Images – @grazia_magazin (Instagram), @naras. (instagram), Y – Petrol Frances, @miss_amina (Instagram).
For our Class of 2020, I speak with the voice of each of your tutors and lecturers who have taught you and got to know you:
We have had the pleasure of knowing each and every one of you, watching you grow into remarkable individuals. Now, we will be watching you again, but at a distance, as you take forward your independent personalities, to become the leaders, innovators and entrepreneurs of tomorrow. In your journey, you take with you, your toolbox of knowledge, talent and experiences and fill it up to make it even more unique.
I know you will flourish, with confidence and ambition, but with the empathy, understanding and respect for all.
I wish you all, every success in the future.
Sam Chandrasekara, Programme Leader, BA (Hons) Fashion Business Management