Issac Luuton
Isaac Luuton
International Fashion Promotion BA (Hons)
"In my spare time I try to get the most out of being a student in such an exciting and vibrant city like Manchester."
My home town
Originally Uganda, but lived in Derby for five years before coming to study at Manchester Metropolitan University.
Why I chose this course?
Before I came to study here I studied IT at college, but in my free time I would research fashion and contribute to my blog. This made me realise I actually liked learning about the Fashion Industry and less about IT. As a result, I decided to undertake a Foundation Degree within the Manchester Fashion Institute at Manchester Metropolitan University and because I enjoyed this so much I decided to continue my studies by joining the International Fashion Promotion course. I am glad that I have made the switch to Fashion, as I have been able to turn a hobby into a blossoming career path.
The range of subjects offered on my course are all great, and I particularly like Fashion Communication and Global Fashion Cultures as I get to learn about the business practices of so many other cultures around the world. I am a creative person and this course allows me to develop my creative flair whilst developing my business and commercial skills associated with Fashion Promotion. I feel that this course prepares you and gives you a deep understanding of the Fashion Industry and how to promote Fashion Brands. It also helps to prepare you for your future career in terms of how to gain employment within the Fashion Industry for when you graduate.
A day in the life
In any typical day during term time, I will normally wake up early so that I can get ready for my day at University. On days that I do not have formal classes I will make sure I spend my time conducting further research to support my studies as well as making some time so that get the most out of being a student in such an exciting and vibrant city like Manchester. In my spare time I like to visit the many galleries and other places of interest around Manchester, there are so many things to do. I also make sure I have time for myself to relax and enjoy my student life.
Why I would recommend this course to others
I would definitely recommend this course to others because not only do I have great lecturers who are extremely knowledgeable about their subject disciplines they are also excellent at teaching and making you feel motivated and excited about your future career, they really do support you all of the way. When I graduate I want to become a creative director working for an International Fashion Business.
Alumni Profiles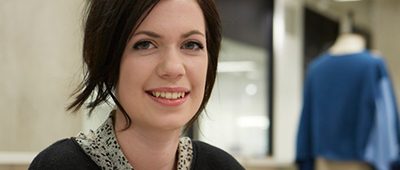 Amy Davidson
BA (Hons) Fashion
Read profile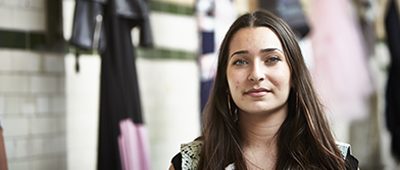 Dalia Youssef
BA (Hons) Fashion Design and Technology Womenswear
Read profile