Fashion Business and Management do New York City
08 March 2019
Manchester Fashion Institute has hosted another successful trip to New York City for students across BA (Hons) Fashion and Business.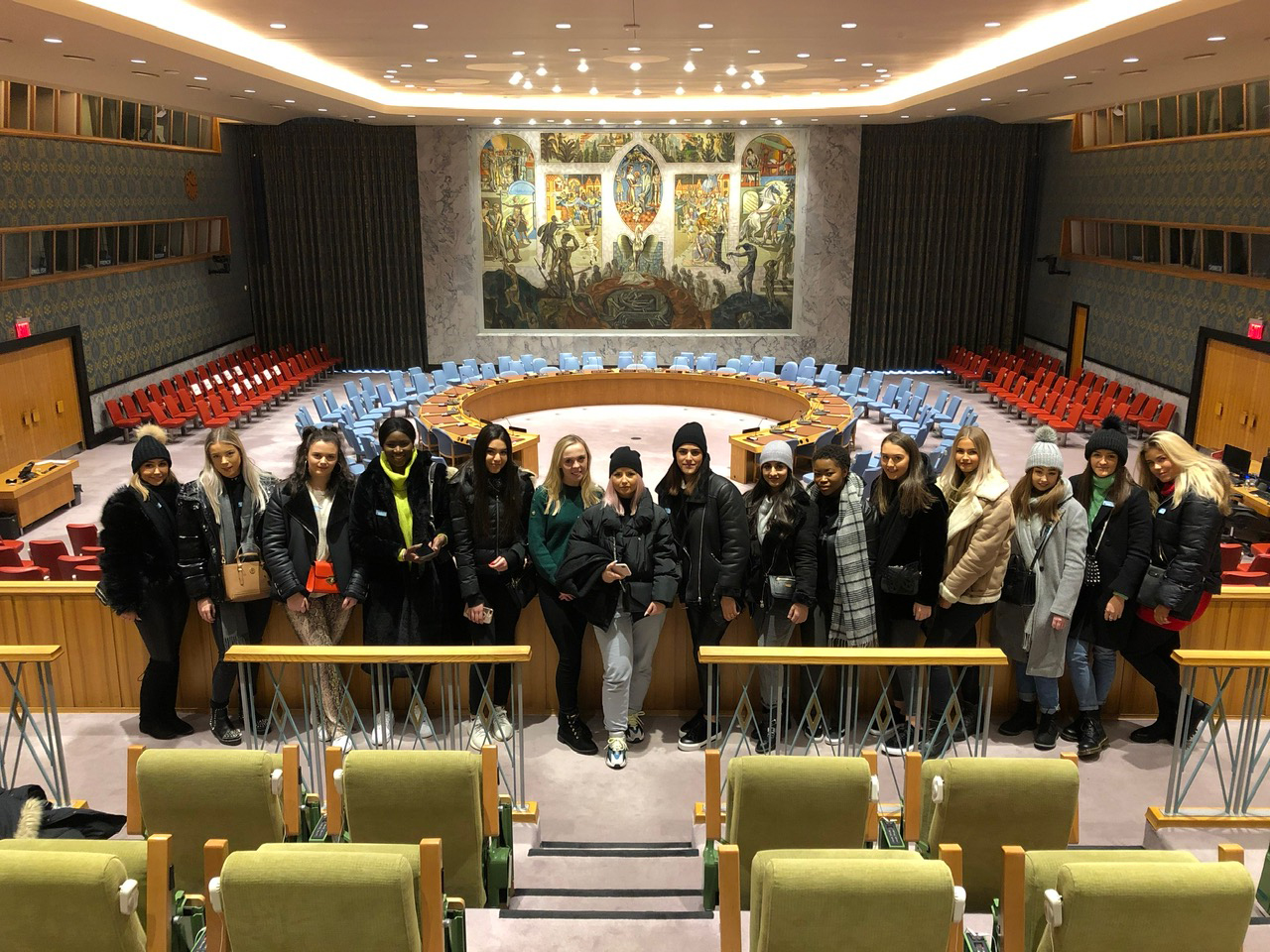 Our group of students travelled to New York in February 2019 and stayed in the Freehand Hotel in Manhattan's Flatiron District.
The trip started with a presentation from a representative at WGSN's Global Headquarters exploring their trend forecasting process, customer insights and case studies showcasing specific projects they have worked on with global fashion businesses. Our second year Fashion Business and Management students are currently working on a trend forecasting assignment as part of their Synergy unit, so it provided them with invaluable insight.
On their second day, the group went on a private tour of the United Nations (UN) building, discussing their operations and international presence. Our students learnt all about the impact that the UN has on the global economy and the fashion industry.
The following day involved a trip to global innovation firm The Current, where the students received a Retail Innovation agency presentation with an open discussion with the CEO and Founder if The Current, Liz Bacelar. The students are currently working on a unit called Customer Experience so the talk focused on how retailers need to re-think their in-store strategies to engage consumers. The Current explored a number of innovations that are having an impact on retail today within both bricks and mortar stores and online including technology, innovation, in-store customer experience and more.
In the afternoon, the students visited the fashion, luxury and cosmetics influencer-marketing agency Launchmetrics, where they discussed the challenges of brand partnerships with influences. They covered areas such as – How to identify which influencers have the strongest impact or discover brand ambassadors within their existing client base and the complexities of managing influencer programmes and what tools and metrics are used to evaluate ROI.
The Fashion Institute of Technology hosted a tour of the on the penultimate day of the trip and a round table discussed was held about the state of the US retail landscape today compared to the UK. The discussion provided fantastic insight into the fashion retail market. This was followed by a tour of the GAP flagship store on Broadway and a talk with the store director about how they work with the head office and the potential career paths available.
The trip culminated in a task where the students were asked to compile a visual report that identified stores that are offering innovative retail and unique customer services experiences.