Fashion Buying and Merchandising trip to John Smedley knitwear factory
02 January 2019
Established in 1784, John Smedley are the oldest manufacturing factory in the world, crafting beautiful, high quality garments that are designed to last, made in Britain and distributed the world over.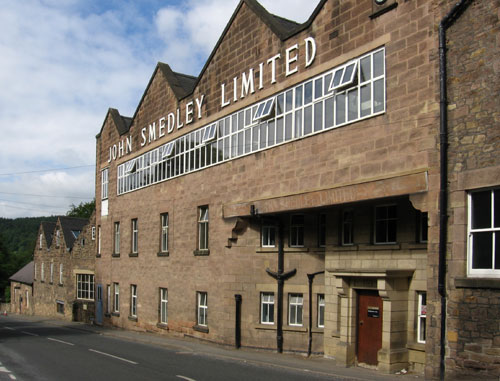 The factory started life producing simple muslin fabric and spinning cotton and in 1825 we moved on to producing more complex garments using one of the first ever fully fashioned knitting machines, creating the original "Long Johns".
Moving onto 1914 where they began exporting to the far reaches of the globe and over time established ourselves as one of Britain's most famous clothing brands.
The year 2000 saw JS open their first store on the iconic Brook Street in Mayfair, London and in 2012 we cemented our style credentials by presenting at London Collections: Men, the first ever British Men's Fashion Week. The following year they were granted the coveted Royal Warrant of Appointment as a "Manufacturer of Fine Knitwear" by Her Majesty Queen Elizabeth II, a testament to their trusted quality.
The study visit took place with twenty final year students from Fashion Buying and Merchandising (FBM) who were given a tour of the building and presentation from the Marketing Team.
Kenneth Wilkinson, Senior Lecturer on FBM, said: "Another great occasion for community learning in Manchester Fashion Institute. The Smedley trip provided us with valuable insights into the production excellence behind the prestige of a classic British heritage brand. Students and staff were treated to a fascinating stage-by-stage tour of the processes behind the product. The visit concluded with a presentation from a marketing manager who discussed the interaction of trends, customers, markets, and quality."
What our students said
"I thoroughly enjoyed the trip! Inspiring, engaging and knowledgeable experience." Katie Pilling
"Loved the trip! The John Smedley factory visit was a unique experience through which I learnt a great deal of industry knowledge (and took full advantage of the factory shop!)" Katy Cunningham
"Great trip around the John Smedley factory, tour guides were insightful, knowledgeable and engaging allowing us to learn a lot about the business and knitwear production. Would recommend this trip." Keeley Sweeney
"It was a great insight into the industrial knitwear process!" Leah Baker
"It was informative and fun trip, it was great to see the process through from sourcing raw materials to the end garment being packed for stores." Lauren Archbold
"British heritage at its finest." Marshall Maggs
"It was really interesting to see a working in factory run in Britain. What I found interesting was finding out prices of machinery as this wasn't a factor I had taken into consideration, this could be beneficial for my future report." Alexandra Longden