Fashion Buying and Merchandise student wins Placement Award
09 June 2017
Manchester Metropolitan University's Faculty of Arts and Humanities hosted the 2017 Make a Difference Awards on Friday 19 May.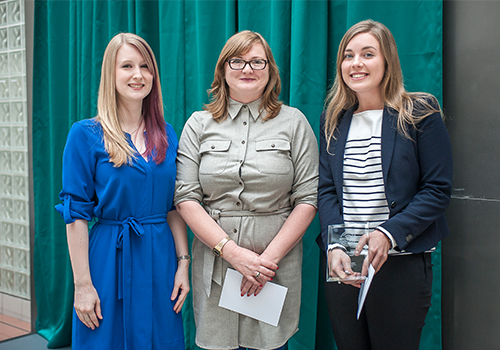 After four consecutive years, the ceremony continues to celebrate the achievements of and the positive impact made by students who go beyond their academic activities to offer their support, dedication and talent in a series of projects and activities across Manchester Metropolitan and the wider community.
The awards also recognised the work of volunteers, students who undertook placements with the University and external partners, as well organisations that have worked in conjunction with Manchester Metropolitan to offer support to students by granting them placements and opportunities while also helping them to develop personal projects.
BA (Hons) Fashion Buying and Merchandising student, Hendriene Jones, won the Student Placement of the Year Award. The award celebrates a student who has exceeded expectations during their industry placement, by showing enthusiasm and commitment within the organisation in which they work.
Hendriene was described as proactive, professional and supportive during her time working with Ralph Lauren as a Buyer's Administrative Assistant. She worked exceptionally to earn respect from the team and the manager, resulting in being a valued member of the team. Furthermore, she organised with her peers a Placement Symposium, for the second year BA (Hons) Fashion Buying & Merchandising students about to undertake their placement search. They discussed their experiences and the benefit of understanding the link between study topics and industry needs. All this and more was accomplished at the beginning of her final year of studies, demonstrating exceptional commitment. She has now gone on to secure a graduate role with PVH/Calvin Klein in Amsterdam.
Find out more about the awards...