Students impress at Graduate Fashion Week
08 June 2017
A showcase of the country's best up-and-coming designers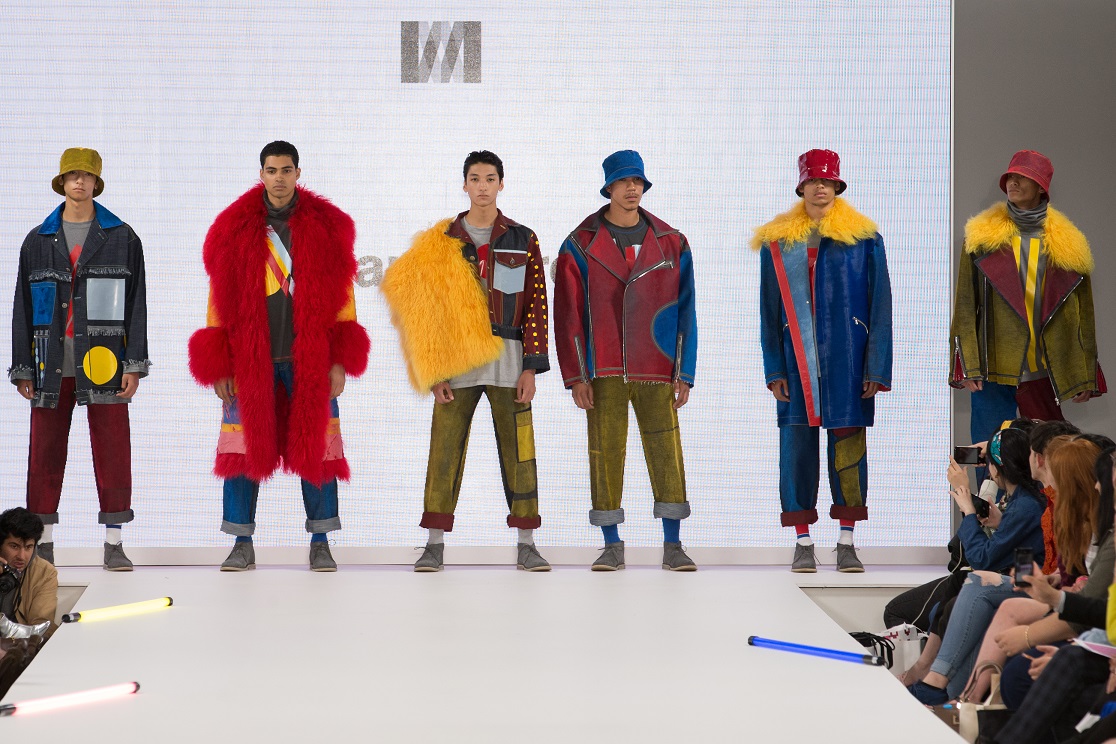 Fashion students from Manchester Metropolitan University wowed at this year's Graduate Fashion Week.
Twenty students final year Fashion and Textiles students showcased their collections on the catwalk at the Manchester School of Art show and ten Fashion Design & Technology students presented their collections on live models at the Manchester Fashion Institute showcase earlier this week.
In front of an audience of the most stylish journalists, talent scouts and industry insiders in the country at the Old Truman Brewery in East London, students shared their work.
Students showcased a range of techniques, including complicated knits, working with faux fur and stunning prints, to create a series of dazzling outfits. Inspiration came from a range of themes including 1970s bathrooms, astronauts, villains and the city of Havana.
The catwalk
Gallery: See the looks from the catwalk
Dr Susan Atkin, Programme Leader on the Fashion course, said: "Our students get the chance to demonstrate their creativity and talent on a massive stage showcasing a wide variety of design and craft skills. Graduate Fashion Week is always an exciting time for them because it opens so many doors.
"The competition is always strong and our students have done fantastically well to get here. It is a reflection of the high level of creativity and standard of skills of our students. A huge well done to all involved."
The students that showcased on the Manchester School of Art catwalk are: Bethan Currie, Susan Forrest, Alexandra Henshall, Anna Thomas, Aimee English, Sophie Wyatt, Aoife Robinson, Zsofia Juhasz, Stefan Efobi, Jessica Strawford, Samantha Jones, Isobel Lindsay, Judith Grant, Heather Chamberlain, Lady Pearl Bannerman-Swaniker, Sophie Maddocks, Emily Plumb, Chakra Manggilingan with accessories by Lisa Murgatroyd, Emily Hancock and Courtney Howard.
For the finale show, 25 student collections were selected to present once again in the "Best of Graduate Fashion Week" and "Gala" shows. Susan Forrest and Zsofia Juhasz were both shortlisted for the main fashion prize. Stefan Efobi was named the David Band Textiles Award Winner for creating innovative new ways of working with materials.
The showcase
Gallery: See the looks from the showcase
Instead of strutting down a runway, the outfits were worn by live models standing on podiums lit by spotlights around a dark room while the North London Brass band played throughout the event, creating an emotive and moving atmosphere. This contemporary and new style of show allowed the audience to get close to the impressive garments and interact with the models.
Models had a 'street cast' look for the show and included transgender and racially diverse models in inclusive sizes, challenging the norms of the fashion industry.
Colin Renfrew, Director of the Manchetser Fashion Institute, said: "Manchester Metropolitan University consistently produce outstanding fashion graduates who go on to be leading designers in their own right. We are proud of the work of this year's cohort of students that displayed at Graduate Fashion Week who all worked so hard to put on this innovative show."
The students that showcased at the Manchester Fashion Institute showcase are: Tom Bird-Jones, Katie Brandwood, Katie Clarke, Rebecca Clarke, Eleanor Cowlard, Lily Kersley, Sarah Kilbride, Zoe Leach, Jade Shields and Yin Su.
----------------------------------
Notes to editors
For more information or images, please contact Maryam Ahmed in the Manchester Metropolitan University press office on 0161 247 2181 or MAhmed@mmu.ac.uk.