Fashion Design and Technology host their 2017 Final Year Showcase
23 May 2017
Students from all pathways of the Fashion Design and Technology course exhibited their final year collections at a showcase on 19 May 2017.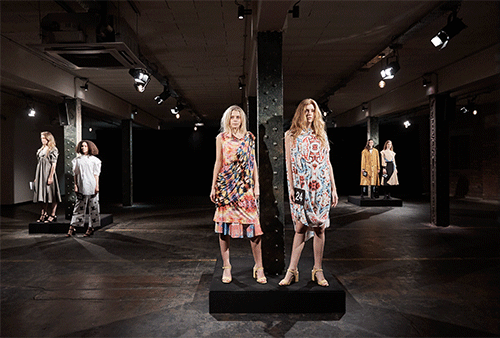 The showcase took place in the industrial setting of Victoria Warehouse and avoided the traditional constructs of a typical catwalk show. Instead, the models performed a choreographed routine including moments of both movement and stillness.
The collections shown demonstrated the variety of skills and techniques the Fashion Design and Technology students have developed over their time studying at Manchester Fashion Institute, with an eclectic collection of garments and designs from organza sportswear to androgynous tailoring.
Student Tom Bird-Jones said, "The whole night was simply amazing! To see everyone's hard work and effort coming together in a final show was such a euphoric experience. The buzz backstage was so electrifying and it was great to see us all showcase our talent together! I'm so excited for the future and cannot thank Manchester Fashion Institute enough for the skills I have learnt."
Graduate Fashion Week
Ten students from the Final Year Show have been selected to exhibit their collections at the Manchester Fashion Institute Showcase at Graduate Fashion Week, taking place on the 5 June 2017 between 7-9pm at the Old Truman Brewery, East London. For more information contact: mfimarketing@mmu.ac.uk