Fashion and Business Saturday Club graduates' exhibition
28 March 2017
Manchester Fashion Institute is hosting a special event to celebrate the achievements and hard work of our Fashion and Business Saturday Club members.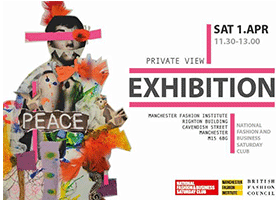 In 2016 Manchester Fashion Institute team up with the British Fashion Council and the Sorrell Foundation for the second year running to provide a fee weekly 'Saturday Club' for 13-16 year olds from Greater Manchester.

Over the last 20 weeks, Manchester Fashion Institute has worked with 20 pupils from 12 different schools. The club members were able to learn about the fashion industry, whilst also acquiring new skills by experimenting with diverse materials and technologies to create fantastic work.

In order to celebrate the work and achievements of Manchester Fashion Institute's Fashion and Business Saturday Club graduates we are hosting a special event on Saturday 1st April 11.30am-13.00pm. This will be an excellent opportunity to showcase the hard work and accomplishments of the club members, with a private viewing of their work, refreshments and networking opportunities.