Students respond to call for more on-trend adaptive clothing with new collection
25 November 2019
Collection aims to address issues young disabled people can face with modern fashion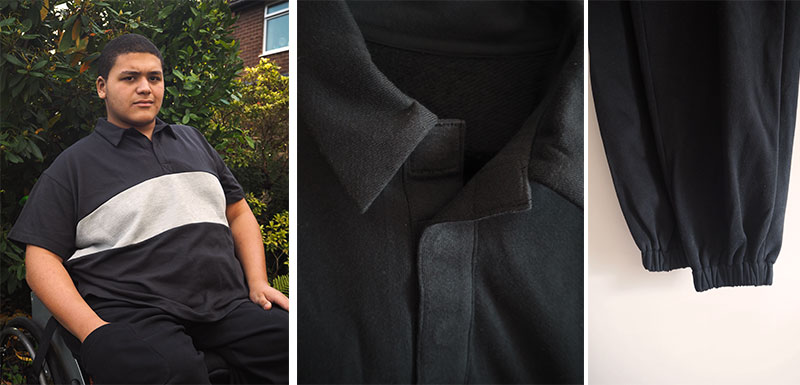 Students at Manchester Metropolitan University are hoping to make a difference in the fashion industry with a new collection of trend-led adaptive clothing for young people with physical disabilities.
MA Fashion Business students and twin sisters Rebecca and Melissa Everett have researched, designed and produced a range of garments that can adapt to the needs of people with a range of disabilities while also expanding their wardrobe with stylish options.
The collection aims to address the problems that current clothing produced by the fashion industry can cause for disabled people by making simple clothing alterations such as magnetic closures that replace buttons and hooks to replace zips.
Inspiration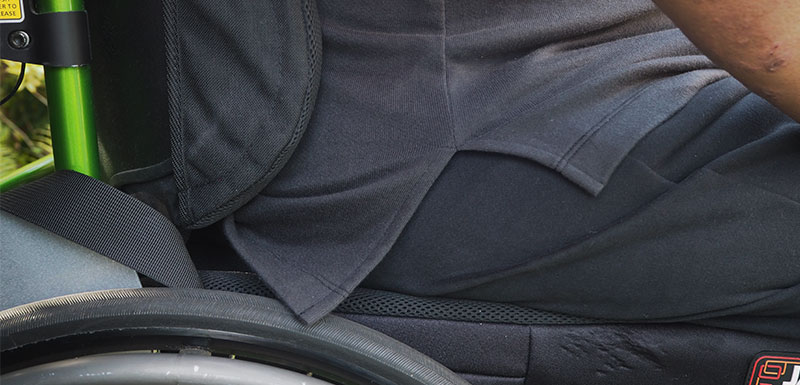 The project was inspired by Caron McLuckie, mother and full-time carer for Emile McLuckie, a 17-year-old boy who suffered a spinal cord stroke at the age of 14, causing him to be paralysed from the waist down.
She contacted Manchester Fashion Institute's Head of Business Engagement, Barbara Shepherd, to express her concern around the lack of clothing that would support him, make him comfortable, but also allow him to dress like everyone else his age.
Rebecca said: "According to the Family Recourses Survey, one in five people in the UK are living with a disability, but unless we experience it, we don't often think about the struggles that some of these people can have finding clothes or even their ability to dress independently.
"Many struggle with the most basic of tasks such as buttoning shirts or zipping up coats and this can really have an impact on mental health.
"When we heard about the project, we knew that there were simple solutions to these issues and that people shouldn't have to struggle to the extent that they do every single day."
Stroke Association
The University responded to the call within its sponsored masters degree programme, where the twins were tasked with designing garments to suit Emile's needs.
They worked in partnership with the Stroke Association, which provided access to a number of different groups, individuals and co-ordinators, to hear from more people who experience these issues every day – and the issue was much bigger than they imagined.
Melissa said: "From our research we found that one of the reasons many people could not return to work after a stroke is due to the fact that they cannot get dressed quickly enough or independently in a morning. By re-thinking simple garment designs, this can be prevented without changing how it looks on the high street now."
Forgotten audience

They found that the current range on the market for disabled people was less affordable than ordinary clothing and targeted mainly at older consumers with little consideration for style, personality and trend.
Rebecca added: "When you look at the amount of clothing being mass produced on the high street, it is hard to believe that there is still a whole demographic of people that are not being considered. Trend-led, fashionable adaptive garments should be available on the high street at an affordable price to meet the high demands of a large but forgotten audience.
"We want everybody to feel good and confident in the clothes they wear and I cannot believe that something so simple is not readily available on the market."
The students held a fashion shoot for their garments, with each design worn by a young model with a physical disability. They now hope to present their designs to fashion retail leaders to bring the project to the market.