Recent graduate captures young designer prize
22 March 2019
Amy Redford was co-winner of the People's Choice Award at the iD International Emerging Designer Awards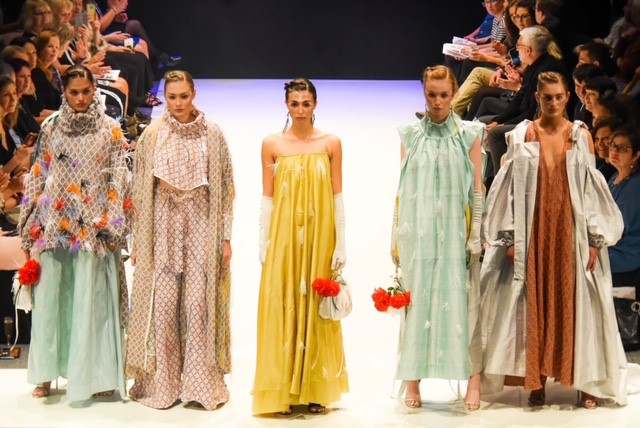 A recent Manchester Fashion Institute graduate has won an international award for emerging design talent.
Amy Redford, a 2018 BA (Hons) Fashion Design and Technology: Womenswear graduate, took home a prize at the iD International Emerging Designer Awards at Dunedin in New Zealand.
She was co-winner of the Otago Polytechnic People's Choice Award – given to the designer who garnered the most audience votes following the two-day event.
The iD International Emerging Designer Awards, supported by Otago Polytechnic, showcased collections from 25 international young designers.
Redford said: "The thought that people enjoyed my collection so much to vote for me and win the award, means the world!
"I was so grateful to even be selected as a finalist, as over 200 people from around the world applied and it was narrowed down to 25, so then to go on and win an award feels surreal.
"Manchester Fashion Institute has supported me throughout the whole process and I can't thank them enough for all their support, as I couldn't have taken part in this competition without them.
"It's an amazing institute and I'm so grateful I had the opportunity to study there."
John Earnshaw, Senior Lecturer and Pathway Leader for Fashion Design & Technology: Womenswear said: "A huge congratulations to Amy, she has produced a contemporary womenswear collection demonstrating sophistication in fabrication, cut and construction to industry standard. I wish her all the best for her future career in fashion."
The Awards were judged by Kiwi designers Tanya Carlson, Benny Castles (WORLD), Margi Robertson (NOM*d) and Kate Sylvester, as well as VIVA editor Amanda Linnell.