Graduate Fashion Week - A fashion show with a difference
08 June 2017
Manchester Fashion Institute students' designs were showcased in a fashion show with a difference at Graduate Fashion Week on Monday night.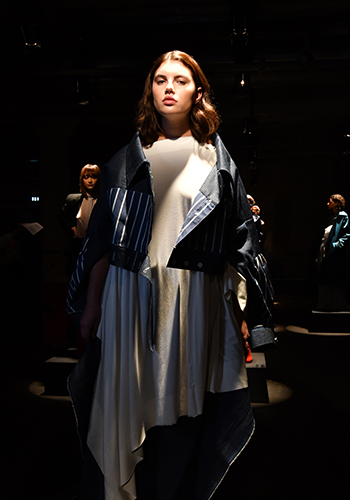 Staged at Truman Brewery in London, the showcase saw Manchester Metropolitan University's BA (Hons) Fashion Design & Technology students display their work in a fashion presentation, breaking away from the traditional 'catwalk show'.
Instead of strutting down a runway, the outfits were worn by live models standing on podiums lit by spotlights around a dark room while the North London Brass band played throughout the event, creating an emotive and moving atmosphere. This contemporary and new style of show allowed the audience to get close to the impressive garments and interact with the models.
Models had a 'street cast' look for the show and included transgender and racially diverse models in inclusive sizes, challenging the norms of the fashion industry. Casting by Jonathan Lyons.
Each collection was designed to be thought provoking, creatively designed and beautifully made to professional standards. The show finale saw models stand together in unity to the sound of the band.
The mix of womenswear, menswear and sportswear collections were designed by students Tom Bird-Jones, Katie Brandwood, Katie Clarke, Rebecca Clarke, Eleanor Cowlard, Lily Kersley, Sarah Kilbride, Zoe Leach, Jade Shields and Yin Su.
Colin Renfrew, Director of the Manchester Fashion Institute, said: "Manchester Metropolitan University consistently produce outstanding fashion graduates who go on to be leading designers in their own right. We are proud of the work of this year's cohort of students that displayed at Graduate Fashion Week who all worked so hard to put on this innovative show."