Fashion students take home top prizes at Graduate Fashion Week Awards
23 June 2023
Students praised for digital fashion, fashion marketing, and fashion communications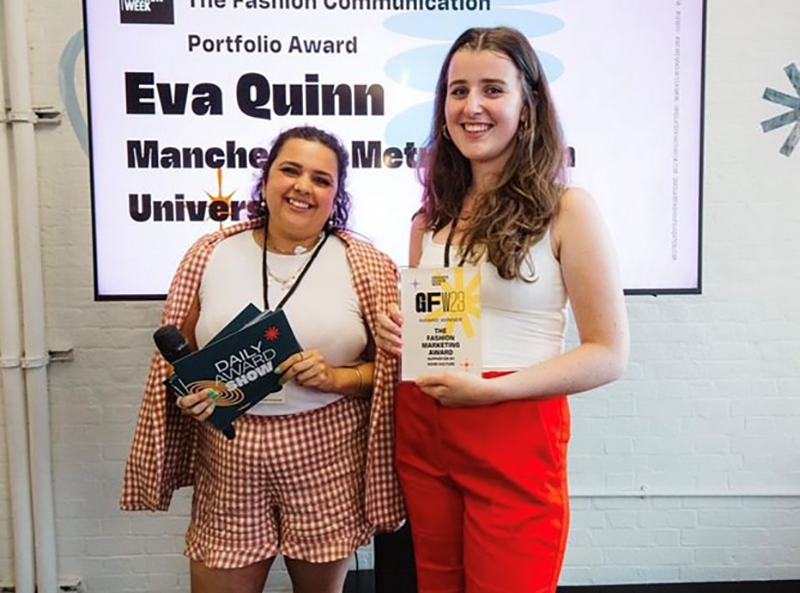 Two fashion students from Manchester Met's Manchester Fashion Institute have taken home top prizes in digital fashion, fashion marketing and fashion communications at the prestigious Graduate Fashion Week Awards 2023, which celebrate the best in young design talent.
BA (Hons) Fashion Promotion student Eva Quinn took home prizes for both Fashion Marketing Award & Fashion Communications Portfolio Award, while BA (Hons) Fashion Design and Technology student Simone James scooped the awards for Digital Fashion and Fashion Portfolio.
The Graduate Fashion Week Awards, which are held annually during Graduate Fashion Week (June 12 – 15) run by Graduate Fashion Foundation, reward excellence and are crucial for attracting industry interest.
Eva's collection centres around the development of The North Space, a metaverse platform created for The North Face aiming to encourage participation from young people in line with the company's brand vision.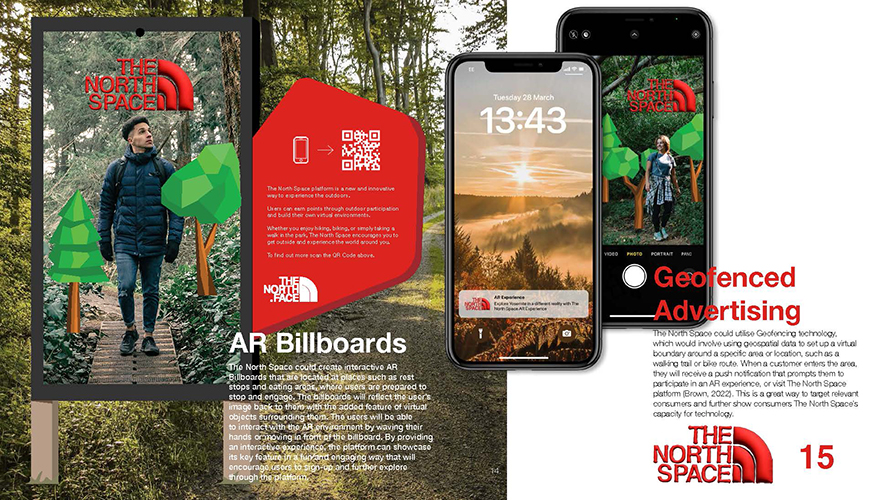 Speaking about winning two awards, Eva said: "I'm absolutely astounded to have received the GFW23 award for both Fashion Marketing and Fashion Communications Portfolio. It's an honour to have been selected for the awards among such a talented group of graduates and I couldn't be more thrilled.
"The GFW Judging day was a fantastic experience and I'm extremely grateful for the opportunity as I would not have been able to get to this point without the support of my tutors at the MFI."
Commenting on Eva's achievement, Barbara Nigro, Lecturer in Fashion Communication at Manchester Fashion Institute, said: "From the beginning of this process, Eva demonstrated outstanding professionalism, hard work and versatility. In response to the brief, she pushed and surpassed the boundaries of her own creative abilities by experimenting with software and technology integration within her strategic communication plan for North Face - a truly future-facing and industry ready output that demonstrates Eva's continuous pioneering attitude towards her learning journey.
"It was such a pleasure to teach Eva and see her flourish, with no doubt she has the brightest future ahead and I am so very proud of all her achievements!"
Fellow student Simone received the Digital Fashion Award for her striking collection which features biodegradable hoodies, jacket, cross body top, shorts and dungarees incorporating edible cress she grew at home through linen offcut fabric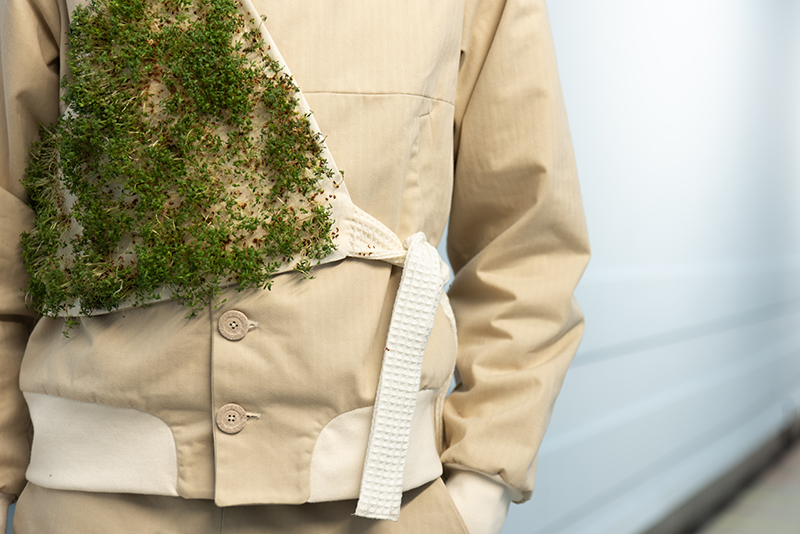 Speaking about Simone's success at the awards, Jayne Mechan, Senior Lecturer in Fashion Technology at Manchester Fashion Institute, said: "Simone's creative response to the realisation of both physical and digital outfits is exceptional. By proposing a future facing circular business model, her 'Phygital Studio' methods encompass industry ready sophisticated biophilic design principles.
"She seamlessly integrates 3D digital and virtual technologies both as methods and innovative outcomes, with meticulous attention to details of construction, materiality and wearability. Her professionalism truly shines through everything she does. It has been such a pleasure to be part of the academic, technical and digital team to support Simone's super bright future."
During Graduate Fashion Week, selected students from Manchester Fashion Institute showcased their collections in a catwalk show.
BA (Hons) Fashion Design and Technology student James Tree was announced as the winner of the Manchester Fashion Institute catwalk show for his collection which utilises creative pattern cutting as a design tool to engineer garments that are cut from one-pattern-piece resulting in unconventional seams and a unique fit.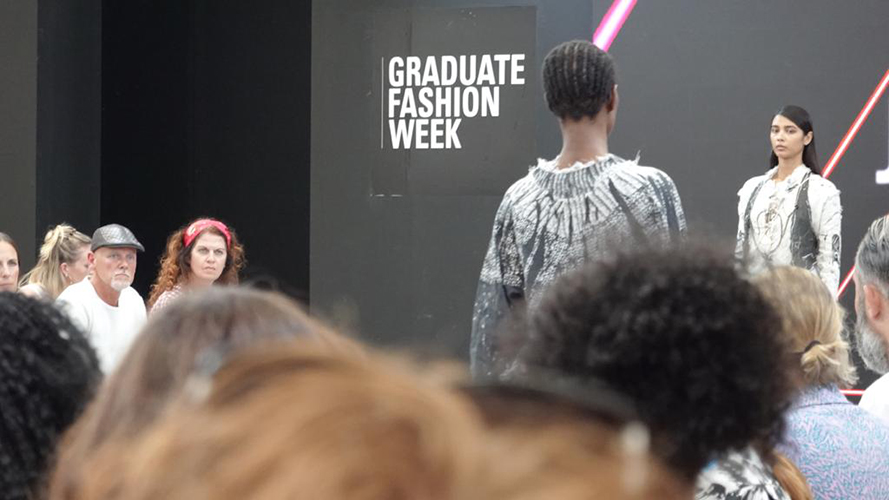 James said: "I'm extremely grateful for this win and that my work has been recognised and featured in the GFW23 best of runway show. Being a part of this experience alongside so many great designers has been incredibly inspiring. I'd also like to say a huge thank you to my tutors at Manchester Fashion Institute for their continued support and encouragement."
Meanwhile, BA (Hons) Fashion student Georgia Baker was Highly Commended for her collection which is inspired by the 1960s featuring a range of prints influenced by the vibrancy of this era.
Georgia said: "I feel very shocked and honoured to be highly commended! I'm very excited to see what my future in fashion holds."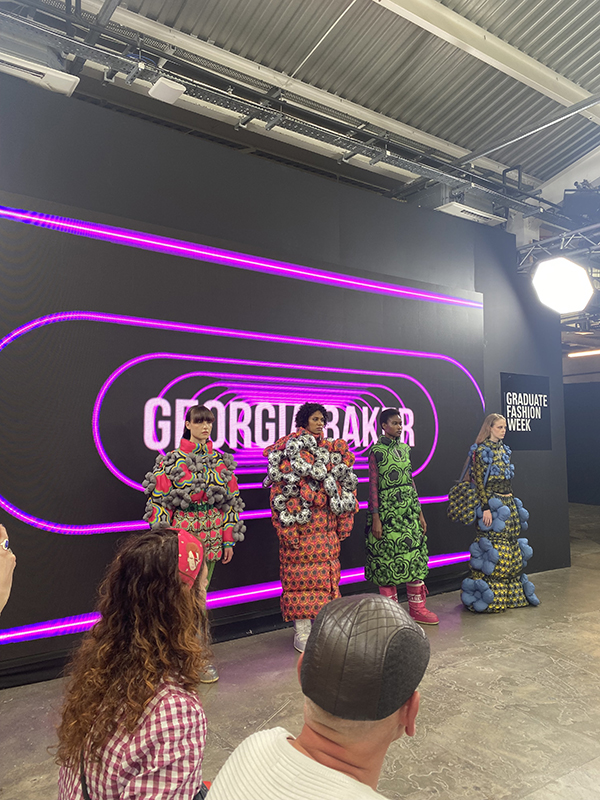 Gradate Fashion Week showcases the work of more than 3500 graduating students each year across 26 fashion disciplines. The event attracts thousands of guests, features catwalk shows and exhibition stands, alongside a schedule of talks, masterclasses and workshops from leading names in the fashion and retail industry.
Top industry professionals, press and recruiters from the UK and abroad use the event as an opportunity to discover talent, as well as offering graduate employment and placement opportunities.