Circular Fashion: What happens next? - A Hainsworth live brief
24 August 2022
Second year students from the BA (Hons) Fashion Design and Technology programme recently took part in a live brief set by AW Hainsworth titled: Circular Fashion: What happens next?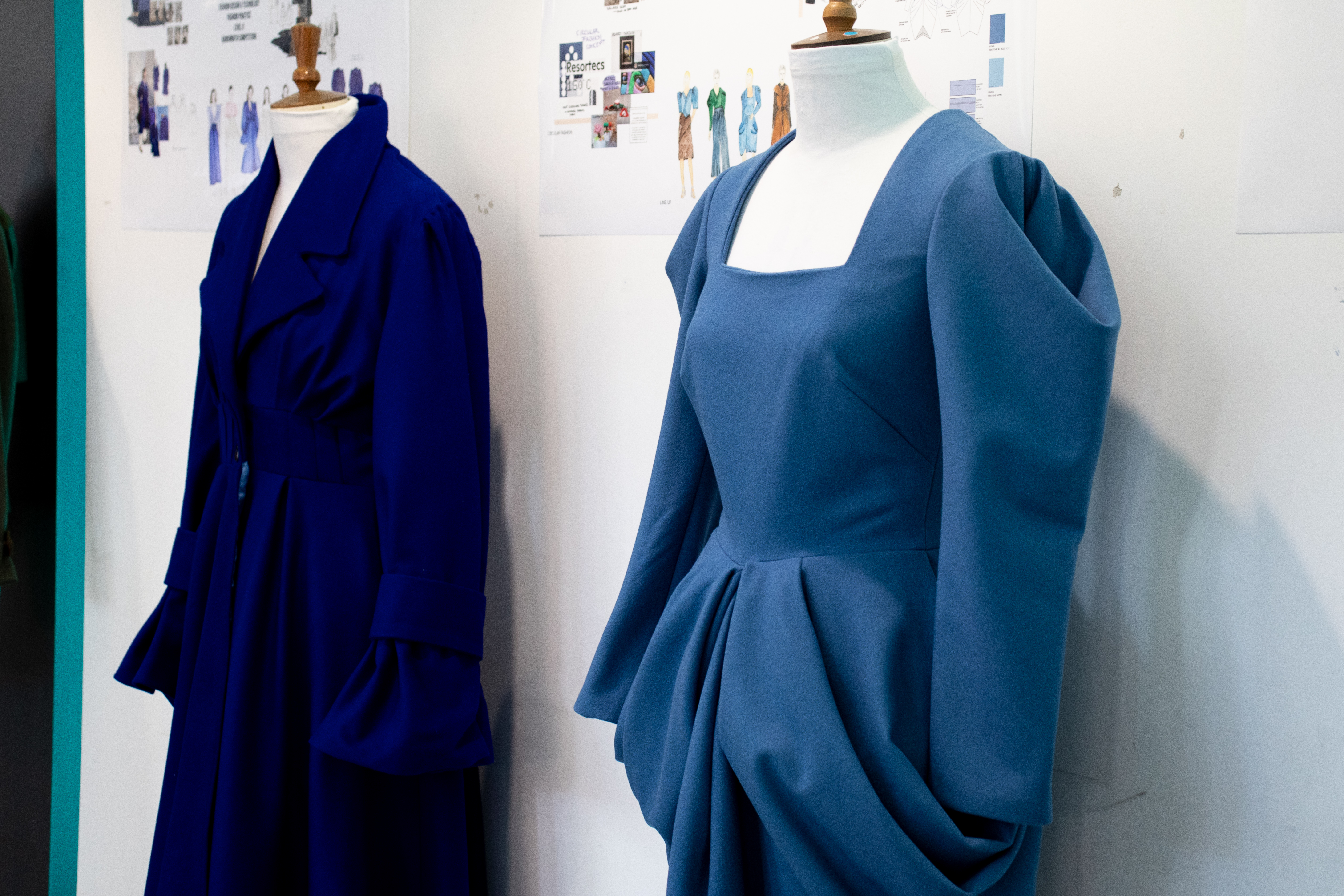 The production of high-turnover fast fashion takes a significant toll on our environment, with C02 emissions, cheap synthetic materials and high amounts of waste contributing to the fashion industry being one of the most polluting in the world. Whilst fast fashion brands may be financially thriving in the age of ever-changing trends, their ways of working pose a major threat to the future of fashion and to our planet. Finding solutions to improve the efficiency and sustainability of the fashion industry is more important than ever, and circular fashion could just be the answer.
The term 'circular fashion' was coined by Dr Anna Brismar in 2014 to describe a fashion industry in which waste and pollution are designed out, and every part of the garment lifespan is cyclical. Longevity and timelessness are prioritised, materials are sustainable and recyclable, and production is fair and ethical. Then, once the owner is finished with the garment, how will it be redesigned, reused, or recycled to serve a new purpose.

"The future of fashion is circular. It has to be," Stella McCartney

Wool has a unique set of 'circular' features - it is a sustainable and fully renewable fibre with the sheep producing a new fleece each year. It naturally biodegrades on land and in water, and as it's protein-based, does not contribute to microplastic pollution. Wool also reduces waste to landfill as it decomposes naturally in soil, whilst slowly releasing valuable nutrients back into the earth.
Hainsworth have used merino wool to create premium woven fabrics at their fully vertical Yorkshire mill for over 230 years. Chosen by the world's leading designers and major fashion houses, Hainsworth's woven woollen fabrics are highly regarded for their quality, structure, vivid colours, and timelessness.
The Project
Hainsworth asked our students to design a circular fashion garment which considers each stage of its lifecycle. This could've included not only designing out waste and the use of sustainable materials but should also have considered, from a design perspective, how the garment would be made, used, and ultimately repurposed or recycled at the end. The garment needed to be entirely the students own original work and be comprised of a minimum of 70% Hainsworth wool.

The students were invited to take a tour of the Hainsworth mill as part of the project to see the fabric production process and to learn about the history and heritage of the mill.
As part of the live brief, six finalists' garments were selected, and a panel of judges from AW Hainsworth then visited Manchester Fashion Institute for an informal presentation and to see the final garments in person. The winning garment chosen was deisgned and made by Sophia Bruckner who will receive a cash prize of £500, her design will also be promoted by Hainsworth.
Sophia said of the experience: "I feel very honoured being chosen to be the winner of this year's brief. Trying to make fashion more sustainable and circular is a big reason why I chose to study Fashion Design Technology. It feels great to win a competition about topics I'm really passionate about. Also working with the Hainsworth cloth was great. Especially as a student you don't get the opportunity to work with high quality fabrics that often and I could really feel and see the difference to fabrics I've worked with before and am so happy how my final garment has turned out!"