LGBT+ History Month at Manchester Fashion Institute
24 February 2021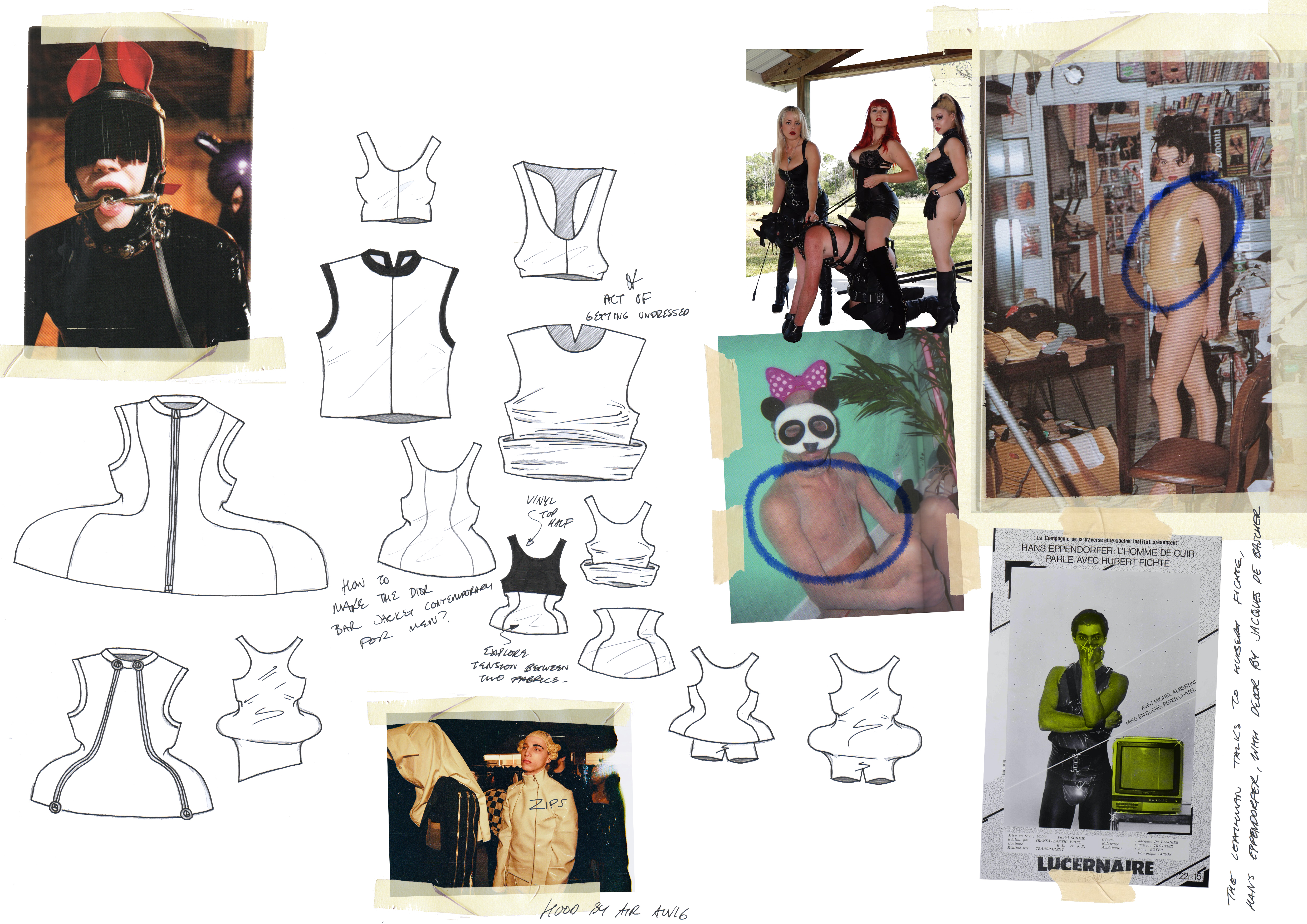 By Dr Benjamin Wild, Senior Lecturer in Contextual Studies (Fashion) at Manchester Metropolitan University
February is LGBT+ History month within the UK. Held annually since 2005, when it was established by the education charity Schools Out UK, this four-week celebration seeks to complicate, contextualise and champion the role of lesbian, gay, bisexual, trans and non-binary people in our society, and to tackle prejudice borne of ignorance and misunderstanding about their gender and sexual identities.
Throughout history, dress has been an important conduit for LGBTQIA people to explore and communicate their public selves. We can think of the secret, and complex, signals that were conveyed by gay men through the so-called Handkerchief (or Hanky) Code. Alternatively, we might think of the bold and brightly coloured costumes that continue to be worn at Mardi Gras parades in cities around the world to raise awareness and support for LGBTQIA communities and the passage of legislation to recognise and protects their human rights. It should not be forgotten that dress has also been used to persecute LGBTQIA people. Perhaps the most notorious example of this in recent history is the pink triangle that was sewn onto the uniforms of prisoners in Nazi-controlled concentration camps during the 1930s and 1940s to identify homosexuals.
These challenging histories shape the conception, creation and consumption of dress by LGBTQIA people and their supporters today. Within Manchester Fashion Institute three of our final year BA (Hons) Fashion Design and Technology students – Jonathan Ferris, Jo Sillars and Jordan Fergusson – are contributing to this narrative through their own experiences and designs in their Final Major Project.
Jonathan's project, inspired by his ancestors, British naturalist Charles Darwin and British potter Josiah Wedgwood, is called Blutlinien ('bloodlines'). The dominant cultural position that these two men continue to have within the UK is reconsidered, even inverted, through what Jonathan describes as the "dark and energetic hardcore" of Berlin techno music. The result is an "evolution from a powerful and dominant human male to that of a submissive pony." If at once a "flamboyant and sexual ode to tailoring, sophistication, glamour, and kink", the clashing of Wedgwood pottery and couture from the 1950s is conceived "to celebrate the queer identity of the homo-erotic S&M dark rooms found within the concrete walls of Berghain (a Berlin night club)". Rooted in Britain and Germany, where he spent his placement year, Jonathan's work is framed by a diverse group of international artists and their works. Particularly important is 'Monogram' by American painter Robert Rauschenberg, with what Jonathan describes as its "gay sexual undertones". The "gay fetish photography" of American photographers Robert Mapplethorpe, Matt Lambert and German Wolfgang Tillmans, along with the "anatomical-shifting" photography of Dane Casper Sejersen, has also provided inspiration. In sum, Jonathan describes his collection with one word: escapism – an escapism from "the realities of life and work to dream, dance, sweat and have sex together".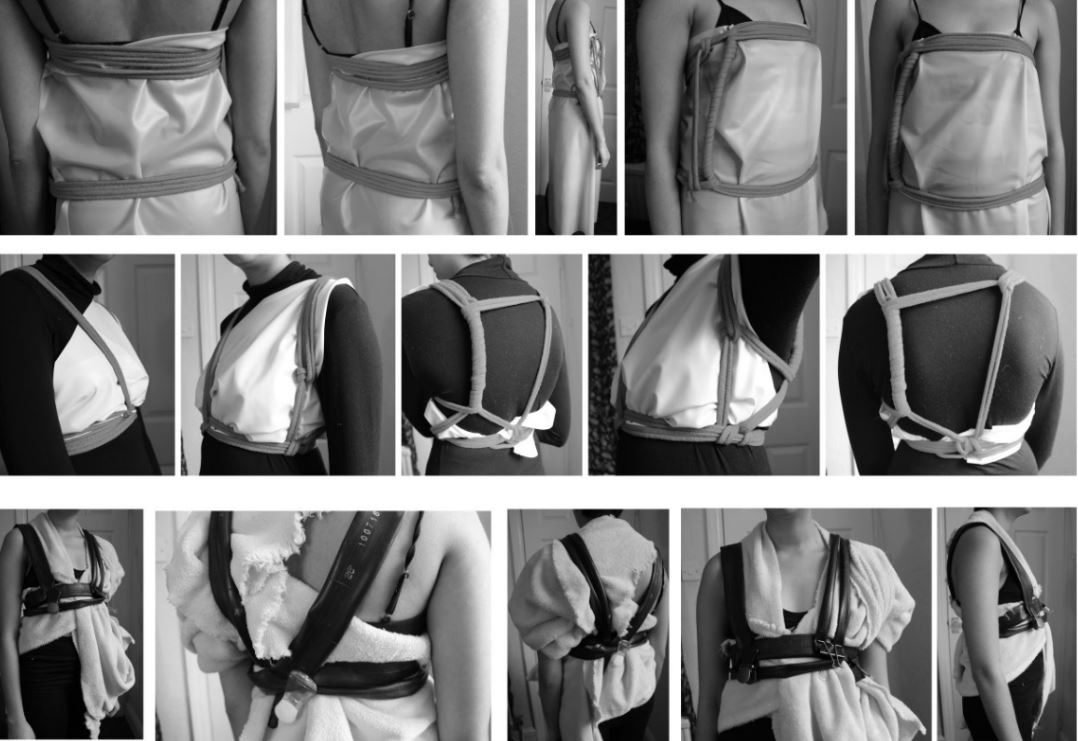 The theme of escapism is also relevant for the work of Jo Sillars, although they emphasise the importance of "disorder, experimentation and playfulness". Jo's work stems from their lived experience as a trans and non-binary person. Their final project, with the working title GENDER:LATEX, focuses on kink clothing, specifically for transgender and nonbinary people, whom Jo observes are typically "ostracised from this area of clothing, and from fashion in general". Emphasising the role of play within their work, Jo describes how they "participate in clowning with the Queer Clown Cabaret and have multiple characters whom they play. One such character is Jellytot, a brightly-coloured energetic and cocky clown." Another character is POSTERBOY, whom Jo suggests is their "drag king persona, who also happens to be extremely extroverted." Motivating their work is a clear need, to "carve out a space for transgender people within the fashion industry, where there is so little representation." Jo believes that "much is stolen from queer culture by straight designers who seek to evoke a queer aesthetic to push products with no real support of the community." The personal nature of Jo's work is, like Jonathan's and Jordan's (discussed below), conveyed through the materials and methods they adopt. "Each garment is primarily developed through drape. I use latex sheets given to me by a friend, and old inner tubes from a local bike shop. My designs are made-to-measure because I want to understand each being and what this garment needs to be." The attention to detail and care that is evident in the work of Jonathan and Jo is aptly summarised by Jo's reflection, "Queer people exist within many intersections of marginalisation and it is key for me to respect the needs of all different bodies."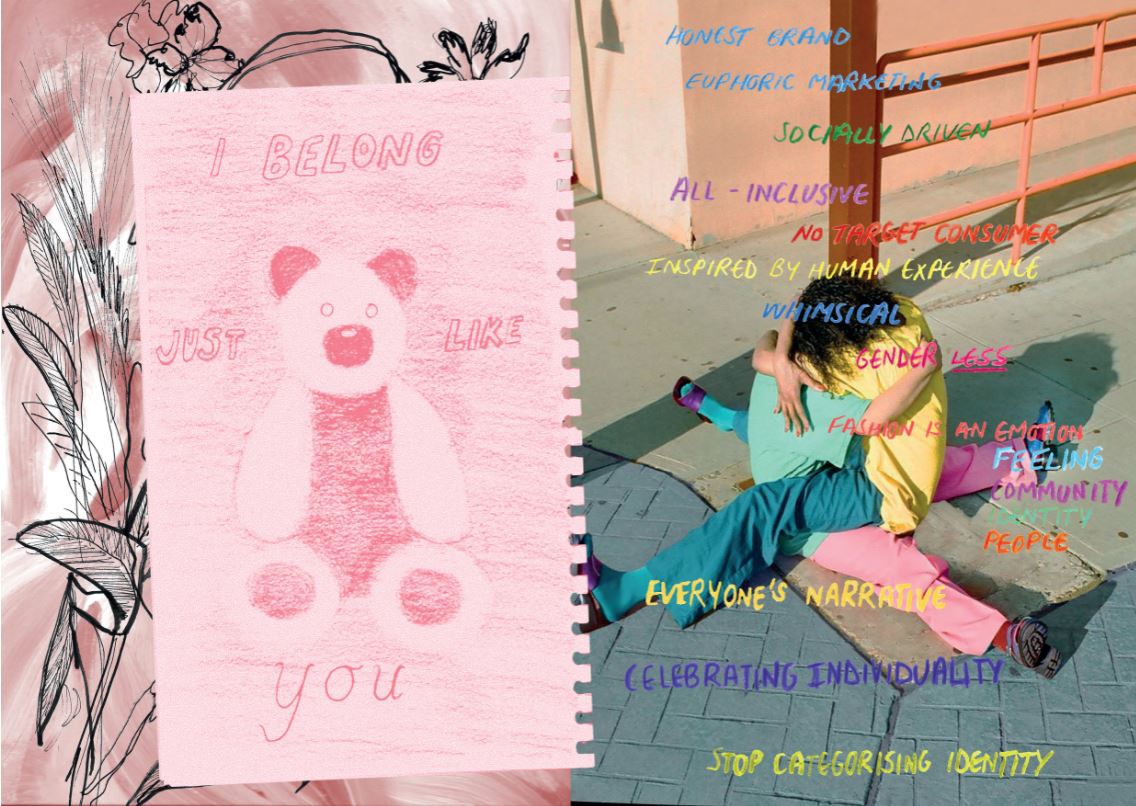 In his work, Jordan wants to move beyond current notions of gender, which he argues represents "an archaic social construct". The provocation and possibilities of his undertaking are conveyed through the name of his proposed brand, GEN(DARE). Deliberately ambiguous, the word "plays with gender" and the idea of a generation of daring individuals. Central to GEN(DARE) is a determination to "eradicate as many confining labels as possible and allow people to have fun with clothing, without feeling categorised as 'male/female' and 'masculine/feminine'." For Jordan it has been important to "create something that resonates with many people and enables them to feel free within their identities in a world that tries to pigeonhole or enforce gender binaries." This pursuit of creativity and liberation – a theme reflected in the work of Jonathan and Jo – is expressed through Jordan's capsule collection, FEELING 001 is BELONGING. The clothes have "oversized silhouettes and are saturated with colour, but incorporate subtle design features that elevate classic silhouettes, such as the high waisted trouser, to subvert original cultural meanings for a new generation of people. The collection is genderless and sizing is numbered to give choice back to the consumer." More recently, the spirit of inclusion within Jordan's work resulted in a virtual drawing session for all Fashion Design and Technology students. Conceived "to lift everyone's spirits", the event included exercises that involved "drawing with the non- dominant hand and drawing blind". Jordan says he received a lot of positive responses and is planning to host another event soon: so watch this space!
The work of these three students shows how an awareness of past experiences help LGBTQIA people to explore and express their identities through dress in the present, which is necessarily both fun and forceful.