Fashion Design and Technology students collaborate with Old Navy
26 May 2020
Industry partner gives students opportunity to work on live project
Students studying BA Fashion Design and Technology took part in a 'live brief' set by established industry partner Old Navy, an American clothing and accessories retailer part of the Gap Inc group.

Old Navy launched their first Design Award for the first time this year and Manchester Metropolitan University was one of only three UK universities selected to take part in the competition.

Students were set the challenge of developing an original seasonal concept and designing a six-outfit collection for two of Old Navy's customers.

Adeline Gheorghita, Talent Acquisition Creative Recruiter and Jeremy Parrigan, Design Director of Menswear at Old Navy, travelled from their Headquarters in San Fransicso USA to select the winners. This trip was undertaken before current social distancing measures were introduced.

20 selected projects were presented, and Adeline and Jeremy shortlisted six students to interview. Antonina Wojtaszek, Charlie Orr-Ewing, Jemma Persson, Maria Louca, Olivia Soady and Rhianna Fisher all presented their portfolios along with an extensive body of 'samples' showcasing an experimental approach to design and the application of finishing details and manufacturing techniques within their collections.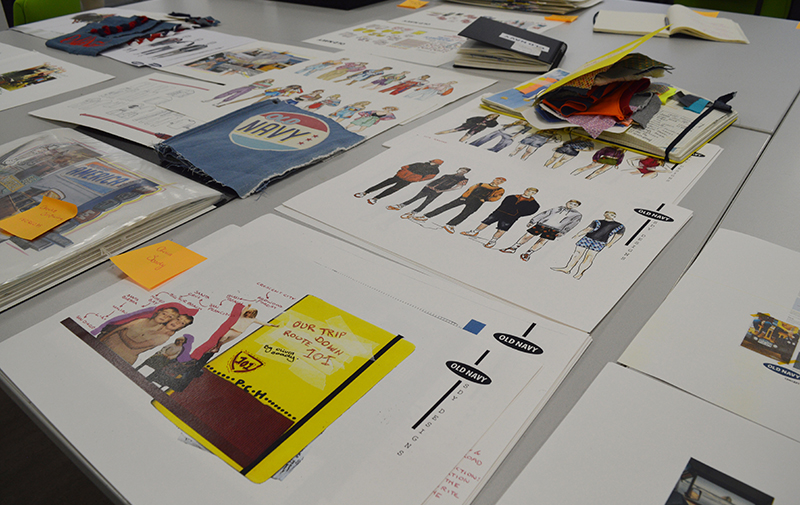 Rhianna Fisher was awarded with first prize and will receive $3500 and Olivia Soady was named as runner up and will receive $1500.

Fisher said: "I was over the moon when they announced I had won the Design Award competition. I feel very lucky to have had the chance to participate in a live brief with Old Navy. This has been an incredible opportunity and getting such positive feedback from the people working in industry has been very rewarding giving me the reassurance I am heading in the right direction."

Soady said: "It's been fantastic to have the opportunity to work on a live project with Old Navy and present my portfolio. I was extremely honoured to be awarded as runner up and taking part has given me invaluable experience."

Becky De Lacy, Senior Lecturer in BA (Hons) Fashion Design and Technology said: "The Old Navy live brief challenged our students to design innovative and fashionable collections, appropriate to a defined customer and market level. This required a multi layered skill set from our students including; critical analysis of existing product lines, customer and brand profiling, creating impactful product, print and fabric concepts, range building and technical drawing.

"As unit leader I was extremely impressed by the quality and professional standard of work produced by all of our second year Fashion Design and Technology students. Winners Rhianna & Olivia not only demonstrated in their work they understood the Old Navy brand values but showed real confidence in the communication of their own handwriting/style in their portfolio presentation. It's been a pleasure to work with Old Navy and we can't thank them enough for investing so much in our amazing students."