World Cup 2018: Why retro kits are in vogue
29 June 2018
Nostalgic shirt designs remind fans of past triumphs, argues sportswear expert Sarah Collins #AnatomyofaWorldCup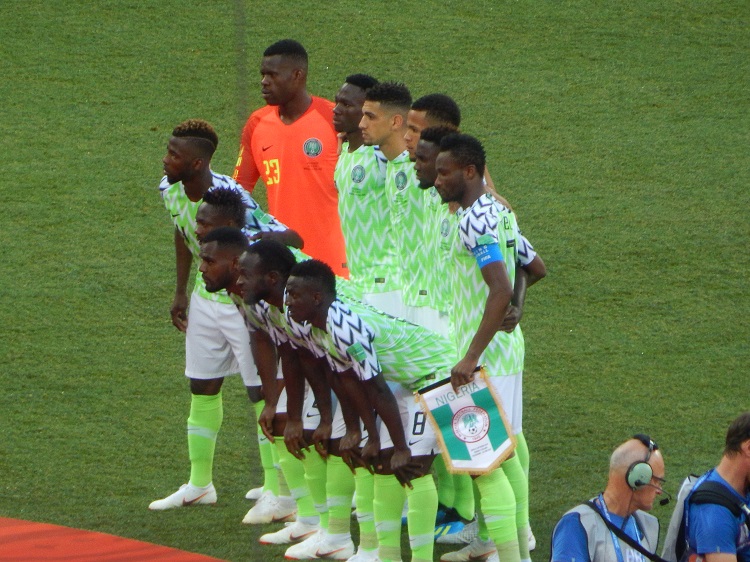 by Sarah Collins, Senior Lecturer and Sportswear Pathway Leader at Manchester Fashion Institute
The World Cup is now in the knockout stages, but the action on the pitch has been only part of the story.
Alongside the thrilling successes and crashing disappointments of the group stages, there has been another much-anticipated element - the vivid array of shirts that has adorned teams from across the globe, beamed into millions of homes and prompting an international audience to decree successes, identify disasters and select favourites.
The eagerly awaited showcase of the new shirts is part and parcel of the World Cup and here we take a look at the offering for 2018.
Seen it all before
Read any blog or article dedicated to this year's World Cup kits and one theme is hard to miss - the past. 1990s references loom large and inspire retrospective graphics, details, colours and patterning. From Spain's traditional red shirt complete with asymmetric graphic print evocative of USA '94 to Germany and Colombia's kits reminiscent of Italia '90, the nostalgic references are hard to avoid.
The undeniable favourite of this year's tournament comes courtesy of Nigeria and it is beautiful. Designed by Nike, the kit is undoubtedly different, with a green and white feathered pattern that has drawn international attention and praise across social media. Although a break from the norm, once again this kit makes reference to the past, reworking that worn in USA '94, the year of Nigeria's World Cup debut.
Replicas of the kit sold out online within three minutes of its release and fans queued outside Nike's flagship store to get their hands on it. If kits alone could win World Cups the Super Eagles would have commenced celebrations back in February.
Why so nostalgic?
But why all the backwards glances and not so subtle nods to decades gone by?
There are many reasons behind the use of retrospective design and the integral relationship between past and present.
Football shirts clearly have functional roles to play during matches: identifying opposing teams, advertising sponsors and meeting physiological demands of players. However, football rarely begins and ends on the pitch.
For a diverse and international fanbase it permeates multiple aspects of their lives, forming an important part of their identity. To fans, shirts can hold deep cultural meanings - they are a sacred uniform that symbolise heritage and communicate belonging. Replicas are worn with pride. In their paper You're Not Fit to Wear the Shirt, Gavin Kendall and Nick Osbaldiston write that shirts are "embedded in narratives of authenticity, sacredness and profaneness." So not just a garment to play football in then…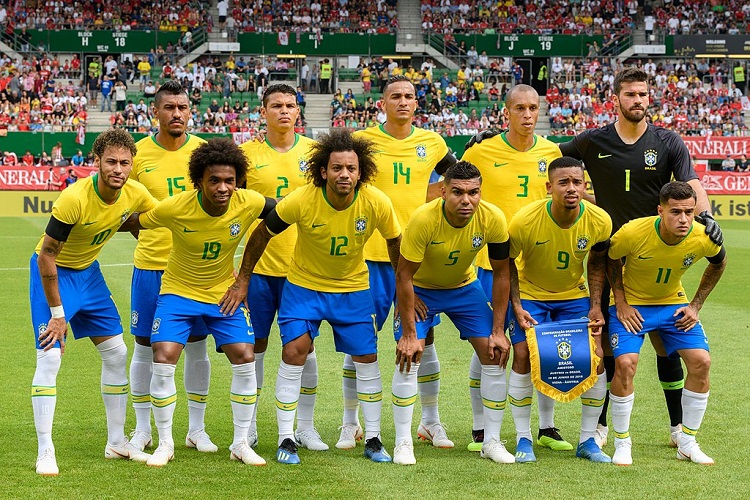 A shirt can achieve iconic significance, capturing the visual identity of club or country and holding memories of a game, season or tournament where trophies were won or lost. These shirts are memorable, not necessarily for the beauty of their design, but for their association with the occasion in which they were worn.
When designers at Nike sought an update to the yellow of Brazil's shirts it is no surprise that they resurrected the exact shade worn in Mexico for the 1970 World Cup, which of course they won. England once again don the home shirt of white and their red away version, a tried and tested formula repeated since the glory days of '66. When England triumphed against West Germany, lifting the since elusive trophy, they did so wearing red. This shirt has since achieved an iconic status far beyond that of the white home version for its part in this monumental event.
This desire for authenticity, to capture heritage and evoke memory, has clearly influenced a wave of retrospective and recycled designs. The exploitation of nostalgia through shirt design has meant that whilst innovations in material technologies have faced firmly forwards, the aesthetics have been glancing steadily over their shoulder for inspiration.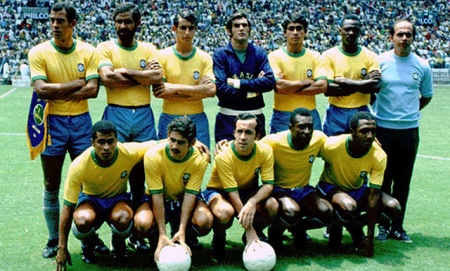 I spoke with Matthew McGroarty, Teamsport designer at Puma, who told me that "since the early 2000s football kit design has focused heavily on technical features due to the major advancements in technology and this has led to fairly plain visuals."
Since the explosion of the replica industry in the late 80s and early 90s football shirts have become increasingly governed by tradition. Innovation in design that strays too far from this path is rare.
So, this year, with no sign of this retrospective trend abating, we will once again be taken on a nostalgic journey through the decades with the only surprises being those on the pitch.