Elizabethan Sportswear: The Exhibition
13 June 2018
An exhibition presenting the creative work developed by fashion designer Nabil Nayal during his doctoral research, at Manchester Metropolitan University, opened on Wednesday, 13th June in the Righton Courtyard.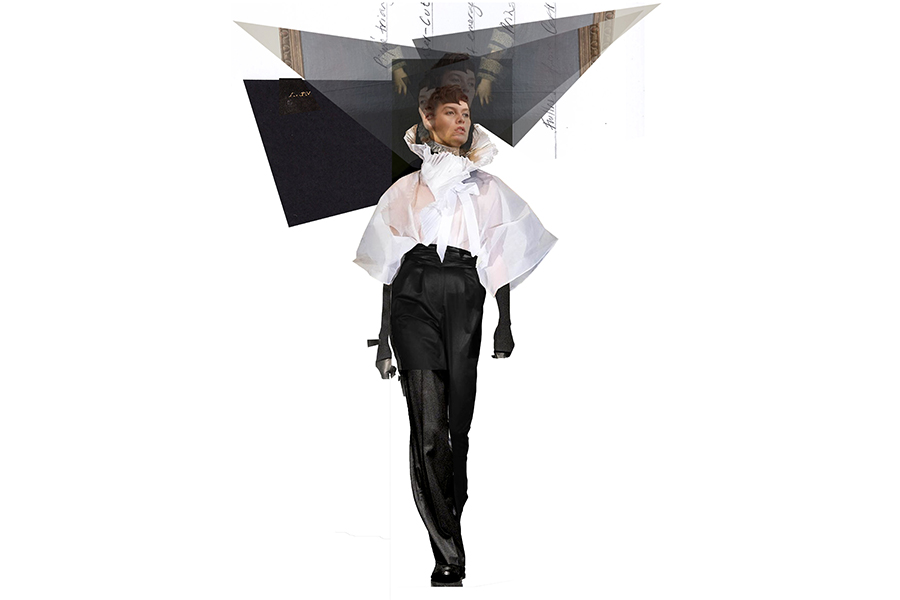 The pieces exhibited reflect a long preoccupation with Elizabethan dress, here forming a new alliance with contemporary sportswear. What began as a clash of clothing cultures led to the investigation of disruption as a generative principle of fashion design.
Nabil employs collage at the start of disruptive activity. Collage destabilises the historical imagery, returning pictured garments to an unfinished state where new actualisations can be conceived. Such encounters pointed to specific actions of disruption characterised by the type of break: eruption (breaking forth), corruption (breaking apart), interruption (breaking in on an action), abruption (breaking away) and irruption (breaking into). The exhibition follows disruption from collage through to actualised garments, showing disruption as a form of channelled energy revealed through a break.
Although the garments can only be shown this week, the window posters and entrance hall banners will remain on view afterward.
Born in Syria, Nabil moved to England aged 14 and studied Fashion at Manchester School of Art before securing the British Fashion Council's MA Scholarship, which enabled him to study at the Royal College of Art, where he graduated in 2010.
At the start of his doctoral study in 2015, Nabil was shortlisted for the LVMH Prize where Karl Lagerfeld noticed his work, and bought a piece, since dubbed the 'Karl Shirt'. In 2017, Nabil became an LVMH Prize finalist, presenting work at the Louis Vuitton Foundation in Paris. His collections are shown during London and Paris fashion weeks, and are stocked internationally. This year, Nabil received the Fashion Trust award from the British Fashion Council.