Students design 'Tour de Manc' jersey
02 March 2018
A group of BA (Hons) Fashion Buying and Merchandising students have designed a cycle jersey for Tour de Manc 2018.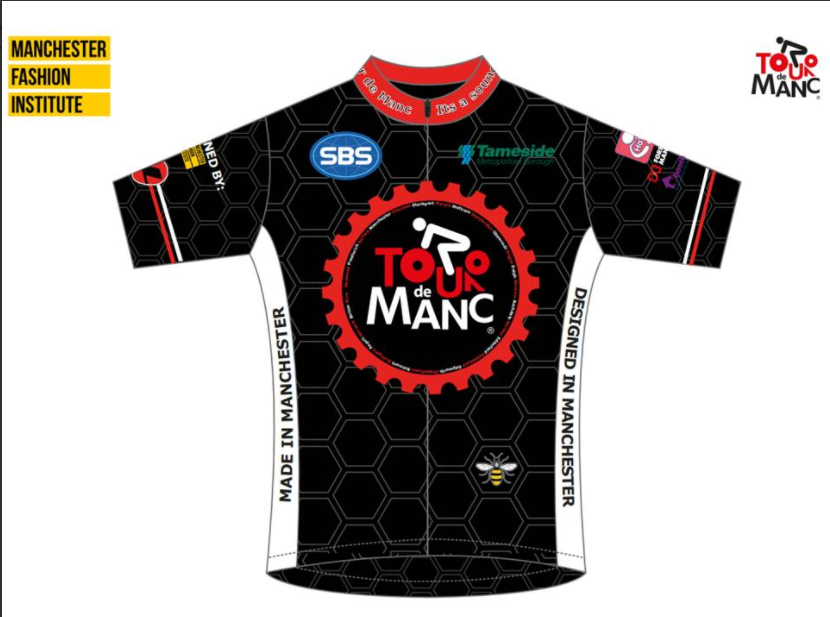 Tour de Manc is a not for profit brand, which aims to fundraise for registered charities through running cycling related events and accompanying programmes. Tony Rubins, a representative from the charity recently collaborated with Maria Malone, Principal Lecturer Fashion Business, and Cathy Chase, Programme Leader Fashion Buying and Merchandising, to design a live brief for second year BA (Hons) Fashion Buying and Merchandising students.
For the brief, students were required to design a unisex charity cycling jersey, suitable for all ages and sizes, which embodied the 'Manchester vibe' and incorporate charity logos. The brief was opened out to all students in second year on the BA (Hons) Fashion Buying and Merchandising programme.
Product Development was deemed the most logical place to incorporate this into a taught session, thus allowing students the time to work on the brief whilst developing their CAD skills with Fiona Johnson and Rachel Rushton, Associate Lecturers on the programme.
There wasn't an outright winner, however there were outstanding elements of several designs that were selected for development. These elements included a Manchester skyline, a honeycomb design, a 'Manc' saying and a bee, and were all developed further to complete the final design.
The winning group comprised of seven students, Elizabeth O'Hara, Isobel Platt, Olivia Davies, Zara Gray, Megan Pritchard, Tilly Waring and Megan Smith. For their prize, they will visit the factory and see their garments on the production line. The factory, Lusso, based in Radcliffe, North Manchester has an excellent reputation for high quality cycling products. In addition, the students are invited to the Tour de Manc main event on May 6th where they will be involved in starting the race and handing out medals and will also feature on the Tour de Manc website, and in their newsletter.
Cathy Chase, Programme Leader for Fashion Buying and Merchandising said, "When I was first introduced to Tony, we had no idea how this would be received by my students. They were in the middle of a merchandise assignment and preparing for a Trade Fair assessment. However, yet again our students proved that they rise to the challenge, and we're so proud of the final design.
"The jersey completely meets the brief; it embraces Manchester through the inclusion of the iconic skyline, the now infamous bee – plus it is a brilliant commercial design. Special thanks must go to Rachel and Fiona who were heavily involved in the project. We now hope to work together again and make this an annual live brief."