#FashionCommunity presents: a day at AW Hainsworth Mill
09 November 2017
Students from Level 5 of our Fashion Design and Technology course went on a sponsored study trip to the AW Hainsworth Mill, West Yorkshire, on Wednesday 1 November.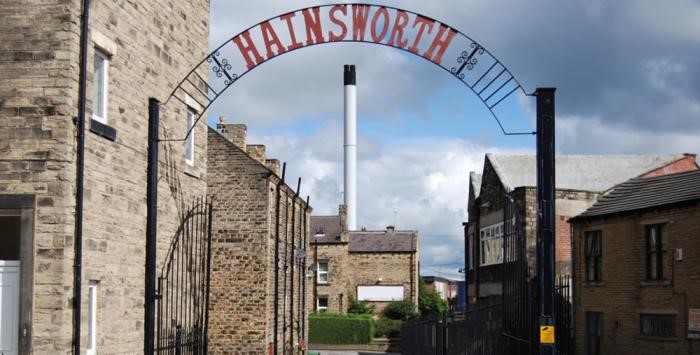 Fashion Design and Technology students, currently on Level 5 of the course, are currently researching, designing and constructing a contemporary outerwear garment as part of their coursework studies and have been asked to focus on one of six garment types: Parker, Duffle, Trench, Biker, Denim, and Performance.
As part of this process, an outerwear garment review was curated to introduce the brief, where all the students were asked to consider the garments and take note of the silhouette, details and finishes of the garments on display. This event allowed the students to critically evaluate the garments and hone in on the garment type they would like to investigate further.

One of the tasks that they were set was to conduct research into the history of a given garment type. In order to enrich this practice, the students went on a study trip to AW Hainsworth Mill to help provide some context into outerwear fabrics and to enhance the historical element of their research.
The visit began with a tour of the mill, which commenced with a brief talk detailing Abimelech Hainsworth's journey from buying lengths of cloth woven in Farsley, Yorkshire to the center of Leeds and selling to local tailors. Hainsworth continued this practice for several years before establishing his own mill in 1800. As a company, Hainsworths have succeeded in maintaining a presence in the marketplace by being proactive in innovating fabrics across many industries and are globally renowned for their fabrics, which are used in many ways from high fashion to snooker tablecloth and holding the Royal Warrant, and more recently developing fabrics for the aviation industry.
Students were able to see the full process of taking the raw wool and creating the final fabrics in various finished and extensive colour palettes. Cassandra Fryxell, a student who attended the trip, said of the experience: "It was such a great insight into one of the last standing mills left in the UK, and it was so valuable to see their process of weaving wool and to understand how extensive the process is."