Student success at International Fashion Festival
25 April 2019
Third-year fashion student wins catwalk prize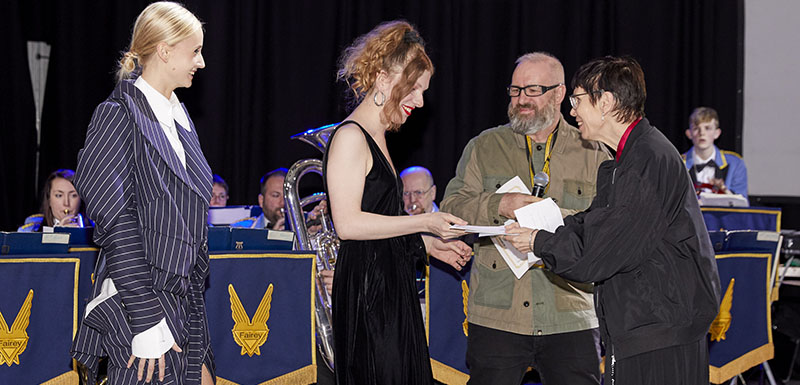 Third-year Fashion Design and Technology student Rowanne Seward wowed judges at the International Foundation of Fashion Technology Institutes (IFFTI) conference fashion show held at Manchester Metropolitan.
Rowanne took third place at the prestigious event that took place on Thursday 11 April, which saw fashion students from across the world compete in a design competition around the theme of 'FASHION:ID'.
IFFTI is an international organisation for the advancement of education, research and development in fashion design, technology and business. The 2019 conference was hosted by Manchester Fashion Institute and showcased the latest international research on sustainability, fashion subcultures, new technology in design and manufacturing, and personal identity and style.
The highlight of the festival was the International Student Fashion Show, where the collections of six of our fashion students hit the catwalk and celebrated designer and Manchester Metropolitan alumni, Nabil El-Nayal, shared his latest London Fashion Week designs.
Rowanne was delighted at being recognised at the event:
"It was fantastic to have been awarded third place at the IFFTI Festival fashion show – I really love how diverse the event is. There wasn't a 'one way is the right way' mentality during the festival and being able to meet different people from the industry and across the world is really inspiring.
"My collection was a range of suits, which are made to be ill-fitting to express how the wearer is trying to make the suit not fitting her body shape work – while trying her best to look as beautiful as she can.
"Tailoring is what I love to do and 'fit' is one of the basics of tailoring – with my identity as a transgender woman, I often thought my body did not fit me. I felt I could never fill out the clothes I would buy and the discomfort that I felt really inspired my pieces.
"I like to use my work to give the wearer confidence and my core message is that everyone needs to accept themselves for who they are as an individual and stop comparing themselves to other people.
"IFFTI is a huge event and being able to take part is something I'm very proud of. I have met some incredible people and it's been really exciting to have experienced it at the Manchester Fashion Institute."
Congratulations to all our finalist students, and Rowanne on your award and prize!
You can find out more about the exciting upcoming events at the Manchester Fashion Institute by visiting their website.