Zoe Dixon

BA (Hons) Fashion Design and Technology (Womenswear)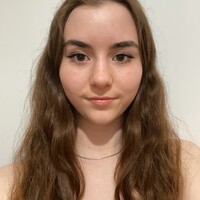 As a fashion designer, I focus on creating garments that have an element of surprise and colour to the design while still retaining a high level of functionality and wearability.
For my Graduate Collection I decided to ignore this idea.
As a child, my fear of growing up was rooted in having to work a boring 9-5pm job in a brutalistic, concrete cubical style office block. To me, there is nothing more terrifying than the prospect of a future without creative freedom and strict regulations around what you can and can't wear at work. I decided to take this fear of 80's style plain business suits and offices, and merge it with the most colourful thing I remember from my childhood; Dr. Seuss.
Renowned for his illustrations and use of colour and unusual shapes, I took inspiration from this art style to help design my final collection. Using a base of shoulder padded 80's suit jackets and other traditional office attire, I emphasised shapes, created unusual seam lines and used brightly coloured wools to achieve my final looks. I also took inspiration from the infamous Truffala Trees featured in Dr. Seuss' story's to create faux fur details and garment accents.