Harry Doyle

BA (Hons) Fashion Design and Technology (Womenswear)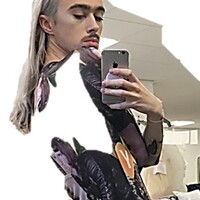 Originally from Northern Ireland, I am a multidisciplinary creative practioner specialising in womenswear, print and conceptual exploration graduating in fashion design technology with a keen interest in art direction and styling.
When designing, my approach to the process is done in a cathartic manner. I have specialised in womenswear however I design for absolutely everyone regardless of race, gender, size and sexual orientation. I consider the lack of representation that I have experienced when sourcing garments for my own styling purposes and wardrobe and the feeling of isolation created by the nepotistic nature of the fashion industry.
By making myself the consumer, I ensure that I represent all the people forgotten when other brands hit the market. Representation through fashion illustration is also at the heart of my design process. Mixed media enables me to display various aspects of my collection in a unique way which helps me create cohesive and contemporary lineups. Conceptual development, art direction, model casting, archival fashion shows and 3D realisation all aid me in envisioning an entire project from concept to finished product.
Sustainability is always at the forefront of my creative process, upcycling and making use of current resources reinforces my experimental approach to fashion design.
My "high brow" and "tongue in cheek" design aesthetic is communicated by tackling taboo subject matters and use of my personal narrative throughout my collections, reflecting on my own experiences and thoughts in order to engrave my design blueprint throughout my collections on a more personal level.
All of the skills and techniques learnt throughout my degree are going to benefit me as I start my own genderless brand with hopes of renting my own sudio space in London while collaborating with others.

This is my time now.
H x