Roya Rasouli

BA (Hons) Fashion Design and Technology (Womenswear)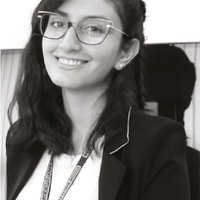 For my Final Major Project, I am developing a collection to raise awareness for Endometriosis which I have been suffering from it for 13 years and there is no cure. Also, this is an activist fashion concept that campaigned to fundraise for Endometriosis UK charity. This collection is made of 100% 3D printed textile which the filaments used were deadstock and disregarded also TPU is 100% recyclable therefore is circular and addresses the end life of the garment by turning the garment into new material via heat and the collection has some deadstock silk from a high-end fashion company.
This condition can affect those born with the female reproductive system and yet there is no cure. We need to continue talking about Endo so more research and tests will be done to find a cure and reduce the average diagnosis time which is currently 7.5 years.
We live in a 21st-century woman who needs a cure for this condition. I use my voice and platform as a conscious fashion designer who got diagnostic after 11 years to raise awareness for Endometriosis. This project is for empowering women all around the globe.
My just giving page for this project is: https://www.justgiving.com/fundraising/royarasoulimmufinalcollection