Maya Ashton

BA (Hons) Fashion Art Direction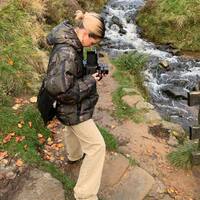 Predominantly working with medium format, my analogue photography sets out to evoke mood and narrative, explored through melancholic, low-light scenes, claustrophobic compositions and eerie locations. Despite working in fashion contexts, I would argue my images are examples of visual communication, rather than solely fashion photography, and how they are received and felt by a viewer is of great importance to me. Although digital is hastily overtaking the physical, I strive to show my work not on a screen but in large scale, with a curated and immersive space to heighten such moodiness in each photograph's narrative.
Inspired heavily by film, the narratives within my cinematic, often somber photography are centered around feelings of disconnection, mundanity, and malaise in a fast paced modern society - a certain unease, elevated by lighting, setting and composition. The narratives I evoke also portray multidimensional femininity, and each photoshoot is often centered around an empowered, unapologetic femme figure, inspired by fashion photographers such as Glen Luchford, Helmut Newton and Skye Matthew.
As a photography practitioner, I choose to work in analogue as a medium, particular with medium format, in order to slow down the practice of my fashion photography - in an increasingly fast paced world of fashion, images can easily feel fruitless and throw away; shooting with analogue and processing the images myself, for me, creates a more personal relationship to my work and in a certain sense, gives each image more longevity. This resonates with the narratives I often explore, touching on the fast paced everyday and loss of individualism.