Lucy Osborne

BA (Hons) Fashion Design and Technology (Menswear)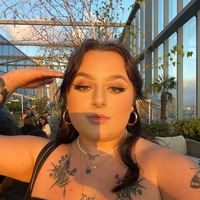 My design aesthetic is both safe and playful. Influenced by independent creatives, I work with bold silhouettes. Incorporating elements of technology is a way I practice strengthening my design. Bold colours paired with a neutral palette would best describe the colour schemes you will see throughout my work. As a creative, I also practice in graphic design and illustration, so including these elements into prints, embroideries and laser cutting is often seen throughout my design work. I use my innovative design skill to develop clothing for more unusual body types, representing the underrepresented in the fashion community.
They key pillars of my design work are: ethically sourced, providing clothing solutions for transgender / non-binary bodies and being an affordable price point.
I work specifically with developing silhouettes that break societal gender norms, but also mask both feminine and masculine silhouettes. For example: I previously developed a garment for a transgender male designed to mask hips, waist and breasts through the outlet of a dungaree. I don't conform to societies need to label genders on clothing; high street stores are missing supportive clothing for these identities so I aim to design for those who struggle to find clothing catered to them.
My market is niche, but under-represented non-the-less. In 2022, there are no fashion shows at LFW to represent the non-binary community, there is evident space for this to be introduced. By creating clothing for transgender and non-binary bodies I feel as tho I am supporting a community, rather than just fashion trends. Gender identity is an issue close to home, so incorporating this element in my design practice is important to me.