Laticia-Patrice Matthews

BA (Hons) Fashion Buying and Merchandising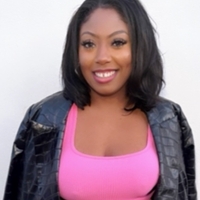 My university journey started in 2018; I was 25 years young with a 5 year old son - single mom, thinking can I really do this?! Fashion has always had a place in my heart so I decided to apply for the 'Fashion Buying and Merchandising' course, with only basic knowledge of the fashion industry. Now I can say university and choosing this course was the best decision I have made in a long time, I have left with so much knowledge, a creative skillset that I can take with me on my next journey within my career, and I have also been able to use the knowledge I have gained over the past 4 years to build my own children's clothing brand, which I completed for my final major project. Without MMU and the support they provide, as well as the constant drive and support from the tutors this journey would not have been possible.
This course has given me information on what fashion buying and merchandising roles entail, sustainability, different fabrics, CAD skills, business plan, how to apply for job roles, business strategies, the list is endless. This journey has allowed me to dig deeper into my creativity in which I was able to showcase through my assignments and projects.
I am grateful for all of the endless opportunities that are now available to me from completing the fashion buying and merchandising course and I have enjoyed every second of this experience. I am excited and cannot wait to delve into the next chapter of my career.