Kiana Soleimani

BA (Hons) Fashion Design and Technology (Womenswear)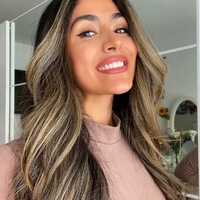 A fashion design and technology graduate designer that specialises in womenswear that is capable of running a small business all on my own. I have gained the ability to spot upcoming trends in the fashion industry which allows me to get ahead of them. I can produce and deliver new collections for specific targeted audiences, considering my consumers needs and values.
My design aesthetic is Bold, colorful and experimental, taking inspirations from shapes and patterns from my surroundings and transforming them into garments. I mostly use the drape and pin method to spark any design, then use that to create a first prototype to develop further until I have my outcome.
My FMP concept is a good example of how I combined inspiration from the structure of a jellyfish with mixing the silhouette of tailored and flowy garments together to produce fashion pieces.
My main value in my career is sustainability therefore I'm always experimenting and trying to find new way to upcycle scraps or old garments into fresh new designs. I believe the future of fashion is sustainability and for that reason I would like to tackle the fashion pollution crisis by saving garments from ending up in landfill and giving them a new purpose.