Jade-Leigh Penny

BA (Hons) Fashion Design and Technology (Womenswear)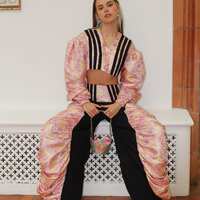 The underlying narrative to this collection is the journey of myself as a designer, from childhood to present day. I have a feminine design aesthetic whilst juxtaposition and playful collaging are integral to my personal design philosophy. Throughout my time at university, I have found a pattern in that my research always stems back to the Victorian era - I admire the feminine qualities within the Victorian dress, however these women were not allowed to show much skin, it was very much coveted femininity, very different from the fashion of the 00s which I grew up around.
Queen Victoria - one of histories most iconic queens - was under constant supervision growing up and is said to have had an unhappy childhood. Similarly in todays society, the world has been restricted due to the pandemic with a series of lockdowns and strict rules. The collection portrays the femininity and details from the Victorian era whilst injecting playfulness from my nostalgic references.
"Nostalgic Victoriana" combines the strong female persona and voluminous silhouettes of Queen Victoria with the fun, freedom and girly-ness of noughties nostalgia. This collection is my own y2k version of Queen Victoria, a "spoiled and bored Queen living in this narrow, confined world" whilst "y2k times are a place to return to, filled by a nostalgia for a simpler time".