India Hague

BA (Hons) Fashion Design and Technology (Womenswear)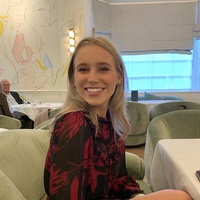 CLASSICALLY ETHEREAL collection - portrays an indulgement in the British countryside in the summer months. Taking inspiration from the traditional British countryside and outdoor clothing, 1930's tea dresses and contrasting with the celestial and fictional side of nature. My interpretation of this has been developed through my admiration of nature and fashion combined, to bring the feeling of being outdoors into clothing itself. Using this as part of the creative process along with colour, shape and texture development to create a 3 outfit final collection.
By being on a technical course, I was able to experiment with technologies, fabrics and shapes to include in the collection. The laser cutting allowed me to create shapes I could not do by hand and still be able to use my fabric choices, I think this is important in the learning and development process to push innovation and create the best outcome.
I am more often inspired by the human mind and feelings, which help me delve into research and put myself into the project that I am working on. It is important for me to connect with the concept so I can visually and verbally analyse the inspiration to produce a strong body of work.