Jasmine Hill

BA (Hons) Fashion Design and Technology (Womenswear)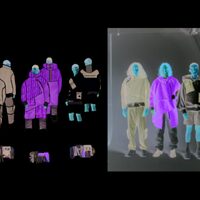 I am a menswear fashion designer who has had experience designing boyswear in industry during my 12 month placement at Klash Clothing.
My final collection is a streetwear inspired menswear collection. Through the development both digitally; using Computer Aided design, alongside 3D toile development I have created a range of interchangeable garments making up different ready to wear outfits. A key focal point of my development process was quilting. I experimented with scale and quilting style/shape to create my own new surface design. I also sourced appropriate fabrics and trims with the reflective elements representing the idea that not everything is as it first appears.
With the switch to a more digitlal lifestyle, it is easy to become consumed by our phones and what we see on social media. My Concept captures the idea that In reality what we belive to see from a single image or video on our screens is just a snipped of what goes on and is actually just composed by pixels.
Through my time at University and on placement year I have had pracitce using many industrial standard softwares such as Gerber, Adobe (Illustrator, Photoshop, InDesign) and Industrial sewing machinery which all assist the design process; developing specification packs, layplan's, design portfolios and research/development stages.
PLACEMENT:
From September 2020-2021 I gained a years work experience in the fashion Industry working for jersey wear supplier; Klash Clothing. Here I had the opportunity to design boyswear for multiple brands including C&A, M&S, FatFace, Nutmeg & TU. I developed my skills further in Illustrator, improved presenting skills and gained more knowledge on different fabric types and how the Industry runs from a supplier side.