Francesca Merrick

BA (Hons) Fashion Design and Technology (Menswear)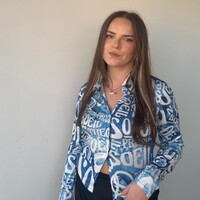 My graduate collection stems from the roots of my Scottish heritage. They are a huge part of my family, but they are something I have never known much about and felt very detached from growing up in Wales. There is an importance of sustaining heritage and roots throughout our modern and ever-changing society, by using my family's stories and our clan's tartans I am reviving their livelihood and joy. Ensuring that the history of where we come from is not lost, making my heritage sustainable and forever living in a creative, forward-thinking way.
My final collection will take the form of a range of garments, all interchangeable and wearable. These looks are new and exciting but have an evident undertone of education, bringing light and enjoyment into historical Scottish heritage maintaining its value and importance in modern day culture.
As a new designer I am aiming to push the boundaries of trend conforming fashion, changing the way menswear is percieved by the fashion industry and wider consumers. I love designing garments with a purposeful background and meaningful references, hinting to the concept of tailored streetwear with an unusual twist. While I class myself as a menswear designer, I feel that my designs are interchangeable through any gender. This is something I activly plan on furthering through my design career, as fashion does not need to have a linear path to conform to.