Ellie Hodgkinson

BA (Hons) Fashion Business and Management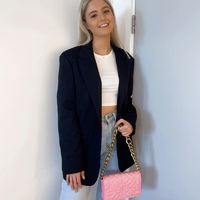 Fashion Enterprise Project: Resilience Clothing
Resiliance Clothing clothing is adaptive and inclusive for visually impaired disabilities. There is a clear gap in the market in the UK and the busiess leads the way for inclusivity in fashion.
The Market Problem:
Fashion has continued to ignore visually impairments when making clothing adaptable solely focusing on physical disabilities. The barrier between fashion and disabilities I believe needs to be broken down as the adaptive fashion market is set to increase to ¢400 billion by 2026, there is an opportunity for brands to make their clothing adaptable. As there is globally 2.2 billion people with a visual impairment and 2 million people in the UK, by becoming more conscious and recognizing their purple pound income businesses could grow.
The Solution:
Resilience Clothing, which addresses the problem of adaptive fashion for visual impairment. Will provide a retail experience online and instore to help overcome the challenges consumers face to allow them to feel confident.
The Business Concept:
Resilience Clothing is based on the principles of creating emotional and functional value for our customers through our products. The product offering will focus on using the softest fabrics such as bamboo and offer specialist tags to help guide purchases at checkout dependent upon the customers disability. The brand will also offer trend lead items and overall improve our customers enclothed cognition when they shop.
Target Market:
Resilience Clothing provides adaptive clothing for visually impaired Millennials aged 25–30 year-olds.