Arfah Alam

BA (Hons) Fashion Buying and Merchandising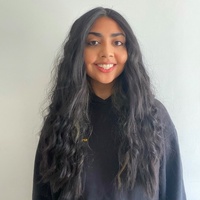 The Manchester Fashion Institute Fashion Buying and Merchandising degree allowed me to understand the professional side of the industry. During my 3 years, I was able to build substantial knowledge of buying and merchandising roles.
As I didn't do a placement, in my third year I chose to do the Live Brief to gain experience working with a company. The brief was to create a brand expansion for wallpapers and interiors company, Woodchip and Magnolia. We could take this in any direction, after meeting with the brand owner Nina, I decided to expand into a babywear brand called Little Magnolia. Specialising in printed baby clothing and accessories supplied by Woodchip and Magnolia. The prints created a fun, unique element to baby clothing. I researched the baby market, identified my target market, competitors and designed the 6-piece range using two prints. In the second half of the unit, we worked with marketing company Muddy Wellies, to market and brand our ideas. I wanted to keep cohesive with Woodchip and Magnolia, whilst remaining relevant to babywear. I settled on the idea of helping the consumer create memories with their baby, as each print tells a different story. The unit ended with a presentation, where I presented my ideas and process to Woodchip and Magnolia and Muddy Wellies. Overall, I really enjoyed this unit it allowed me to understand the different requirements in industry. I was very interested in the product area I chose, which made me really appreciate the process and take pride in what I had produced. Working with the two companies helped me with my professionalism and confidence, being able to take their suggestions and notes and translate them into my work was something I hadn't done before. My confidence in presenting and pitching really grew with this.