Tsz Wing (Adrian) Lok

BA (Hons) Fashion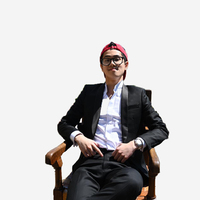 I was born and raised in Hong Kong, yet I have travelled abroad and studied in Yorkshire since 14. Growing up in my teenage years, I was surrounded by nature, but occasionally I would fly back to Hong Kong, an artificial surrounding. I felt like living two lives, one that was surrounded by trees and the other by buildings. This contrasting experience shaped my perspective, resulting in an interest in merging and comparing two topics/objects from both ends. This year, I have completed three projects, one about merging nature and density, another one exploring the relationship between art and fashion, and last but not least, a project about combining sustainability and couture into designs.
Nature and dentistry were two critical events of my life last year, I fell in love with hiking and loathed dentistry, especially the chair in the dental office. Therefore I merged the colours of nature throughout different seasons and the shapes of the dental chair together, combining tailoring, my personal style, to create a collection that reflects my last year in a conceptual manner.
At the start of the year, I wrote an essay about the parallels between Damien Hirst, a contemporary artist and Alexander McQueen, a fashion designer, pointing out the similarities and differences between art and fashion. To extend that topic, I looked at artist Emily Speed, who used fashion as a medium for art, and designer Thierry Mugler, whose designs are simply described as artistic fantasy, based on their works and their muses to create a collaborative project with the students in LISSA Paris.
Sustainability and couture, a duo that I thought could not exist until I came across the competition hosted by Lousie Xin, which seeks the possibility of sustainability couture designs.