Rocelle Castillo

BA (Hons) Fashion Business and Management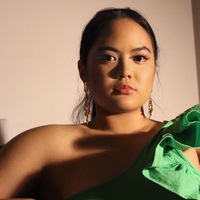 For Fashion Enterprise Project, I have developed Dainty, a womenswear brand specifically for petite women (those who are 4'10" – 5'3") aged 18 – 30 years old. As a 5'0" woman myself, I have first-hand experience of struggling to find clothes that fit me and having to go through the extra step of tailoring my clothes. Fast-fashion brands dominate the petite industry. Despite this, the petite collection amongst these brands is extremely limited, low-quality, and unethically produced. After listening to the common frustrations shared by other petite women, I decided to take matters into my own hands to create a brand that tackles these issues. The official definition of the word 'dainty' defines the purpose of the business – pretty clothes, delicately made for short ladies.
My overall ambition for the brand is to inspire confidence amongst petite women of all shapes and sizes and eliminate the stereotype usually associated with the term 'petite'. This will be achieved through Dainty's product offerings and marketing efforts in which customers are no longer neglected or underrepresented.
During the creation of Dainty, I have developed the professional industry skills needed to succeed as an entrepreneur - from product development to branding and marketing. I approached this project with a collaborative spirit, working with students from Photography and Fashion Promotion to help bring my vision to life. My final outcomes from this project have demonstrated my keen interest in brand communication and creative direction.
This project has also solidified empowerment as a personal core value of mine. I strive to take this value with me to challenge the fashion industry to improve its diversity efforts. The creativity and innovation I have developed throughout my three years of studying this course have prepared me to make a disruptive yet positive impact on the fashion industry upon graduating.