Mollie Citrine

BA (Hons) Fashion Design and Technology (Womenswear)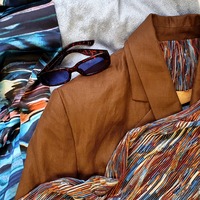 My work centres heavily on the 3D pattern cutting aspect of the design process. I find joy in solving problems to create beautiful, high quality garments. I keep sustainability at the heart of all of the work I do, building my graduate collection around 'less-waste' markers, natural fabrics like linen and bamboo, and most importantly: design for life.
My graduate collection 'Après Ski' is inspired by winter resorts and vintage ski wear, celebrating the peace and the beauty of the evening after a day on the slopes. Each garment I created is designed to be interchangeable, surpass quickly changing trends and to serve the wearer for life. I sourced high quality irish linens, bamboo towelling, and recycled polyester for the collection. Linen fabrics give the clothes a relaxed, almost vintage feel whilst the use of towelling and satins in extravagant prints are a nod to the luxury which underpins the whole collection.
I began my final year by developing a zero-waste marker for a menswear jacket and trouser two-piece. This challenged conventional pattern making practices, however I was passionate about demonstrating that zero-waste fashion design can be achieved without comprimising on the functionality, wearability and appearance of a garment.