Maria Louca

BA (Hons) Fashion Design and Technology (Womenswear)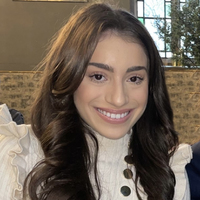 This womenswear collection 'Maria in Wonderland' takes memories of my childhood growing up and the childrens clothes I used to wear from different birthdays that were kept for me to pass down and recent items for special occasions as inspiration.
The concept developed whilst visiting an exhibiton at the V&A about Alice in Wonderland and how's she's an icon to a lot of people. She's a symbol for empowerment as she takes you on a journey exploring her identity as she grows up and has the courage to express herself to challenge the impossible. I wanted to combine the concept of her growing up with my journey growing up. Also looking into the concept of time reminiscing through old photographs and appreciating everything around you as you grow up.
I wanted to create a collection transforming my childhood clothes into a new contemporary version for my future self as a garment is an expression of ourselves and each piece tells a story.
Lazer cutting and 3D printing was a key focus playing with scale and shape. I like to use the technology provided for us at the university to develop something new and expand my knowledge. I took inspiration from the Mad Hatters tea party and table cloths used from my birthday celebrations for the lazer cutting design and played with heart shapes for the buttons and buckles I 3D printed with my name added.