Lauren Grantham

BA (Hons) Fashion Promotion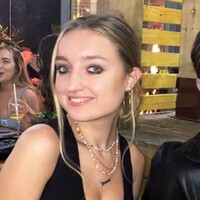 Studying BA(Hons) Fashion Promotion at the Manchester Fashion Institute alongside being the president of the Fashion Promotion in my final year has been so fulfilling and rewarding. I have focused on social media, campaigns, and marketing. Exploring consumer culture, brand identity, and using marketing theory has provided me with a deep understanding of industry and a high level of professionalism. I have developed a keen interest in aesthetics and how these can relate to and be used to address cultural issues. Mental health and gender roles have been two key cultural issues I have investigated within my work and feel passionate about. I look forward to entering the creative fashion and advertising industry, continuing to collaborate with other talented creatives.
My final project delves into the world of customisation and digital fashion. The hypothetical campaign for Moschino offers customers a mobile app to create their own personalised prints that can be implemented onto clothing. My research during my degree has consistently proved that the contemporary consumer desires personal & individual experiences from brands, not just a tangible product. Thus, proving the relevance and success of this hypothetical campaign. I have a passion for styling and creative direction within image making, which is why I approached the shoot and editing for this project in an experimental and engaging way. Furthermore, providing a personalised product that is only manufactured when the consumer hits the purchase button is helping combat the environmental impacts of the fashion industry. My studies at MMU have always considered sustainability; this is something I believe is essential to the future of fashion and an issue I aim to be involved with helping. More of my work can be viewed on my website that is linked on this page.